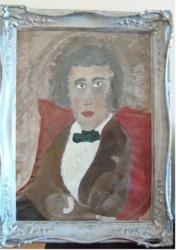 Warsaw, Poland (PRWEB) March 29, 2013
Rodney Lee Kincaid, CEO of Balmoral Capital Holdings Inc. and Balmoral Arts and Entertainment, has shown interest in Polish arts. Kincaid is a painter and investment banker in the international market. Balmoral operates a trading business in BVI and United Arab Emirates facility working with accredited investors worldwide. They have two divisions Renewable Energy and Arts and Entertainment and have partners in five countries and have been in business for 25 years.
During the 9th Annual CEE Energy Conference in Warsaw, Poland Kincaid was a panelist and spoke on offering finance for up to 150 million euros of solar farms and renewable energy transactions. Kincaid is aware that the bankers and business people at the conference care for the environment and also have interests for culture and arts which led him to donate a painting of Fredrick Chopin, a famous Polish composer. The painting will be auctioned off in the next year of 2014 and all proceeds will be given to the Polish opera or the Warsaw Philharmonic. In addition, Kincaid has prepared new funding that will enable select art galleries to have funds for exhibitions and other possibilities such as several Opera Houses in the United States and Europe to flourish under the new financial conditions.
The cartoon likeness of Fredrick Chopin painted by Kincaid arrived in Poland and will remain in Poland until auctioned. Many people have enjoyed renderings of Chopin, but this one is particularly unique. Chopin is loved by many people in 100's of countries. Polish songs and a few works for cello and piano trio, all written by Chopin are knows by thousands. Chopin devoted his life to the creation of a richly melodic and harmonically original music. The composer of matchless genius, no one before or since Chopin has contributed as many significant works to the piano's repertoire.