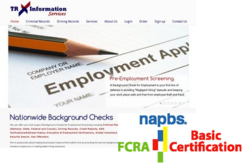 TR Information Services is committed to helping protect their clients as well as the rights of job seekers.
(PRWEB) March 28, 2013
"TR Information Services is dedicated to providing our clients with the most complete and current information available." said Rhona Brody, Compliance Officer, TR Information Services. "This includes knowing the rules associated with reporting that information. The laws regarding what can and cannot be reported on a background check or pre-employment screening not only vary from state to state, but seem to be in an on-going state of change. Employers must hire a screening firm that knows these rules."
Most employers will screen potential employees as part of the hiring process but they can also screen to facilitate a promotion and/or maintain employment. It is a given that these businesses need complete and concise information. However, if an employer utilizes a screening service that does not adhere to FCRA regulations - and a consumer's rights are violated - then that employer can be subject to legal consequences, including civil law suits, large fines and criminal charges.
"TR Information Services has created a background check compliance page on their web site to better help assist our customers in complying with the FCRA" said Todd Mayers, Marketing Manager.
About FCRA Certification
NAPBS' FCRA Basic Certification program offers an overall comprehension of the complex and multifaceted FCRA law. Individuals who become certified are then listed as such in the NAPBS Membership Directory.
About The NAPBS
The National Association of Professional Background Screeners was founded in 2003 and serves to represent the interest of companies offering tenant, employment and background screening. This non-profit organization was founded in 2003 with a mission to: "promote ethical business practices, promote compliance with the Fair Credit Reporting Act and Equal Employment Opportunity Laws and foster awareness of issues related to consumer protection and privacy rights within the background screening industry."
About TR Information Services
Since 1994, TR Information Services has been offering full service pre-employment screening background checks including, but not limited to, Criminal Records, SSN Verifications, Employment/Education Verification Credit Reports and Driving Records. TR Information Services is also a proud member of the The National Association of Professional Background Screeners (NAPBS).