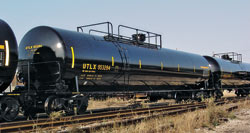 This design of the Girard 407 Railvent is especially popular with tank cars hauling corrosives.
Vero Beach,FL (PRWEB) March 27, 2013
There are many modes of transportation for bulk liquid transportation and Girard hopes to have them all covered. One of the newest additions of venting designs to Girard's ever-growing line of pressure relieving devices is the 407 Rail Vent. This design has already proven itself effective when it had to pass a rigorous series of tests and then a 2 year service trial starting in 2002. These tests were quite thorough in which every mile the valve was in use had to be documented and reported to the American Association of Railroads (AAR). At the end of the 2 year trial period, each valve was thoroughly inspected by the AAR and deemed acceptable to offer to the public for sale. Since that approval, Girard has produced thousands of these valves in a variety of pressure settings and inlet styles. Each valve is guaranteed to be free of any issues and to date no valve has ever been sent back for any normal service related issue. It is quickly becoming an industry standard.
One of the many features which is beneficial to most users is the quick disassembly feature that allows seal replacement to take a matter of minutes with the use of simple hand tools. Each valve is principally constructed of 316stainless steel; which can handle the most chemicals transported by rail. Girard's best selling valve design is equipped with a special Teflon Liner as well as Teflon spray coated componentry. This valve is especially popular for Tank cars hauling corrosives. These valves come with standard flange styles already familiar to the rail tank market with customizable options available as well.
To view design and application options visit http://www.girardequip.com.