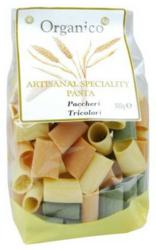 Organico offer artisan products at an affordable price.
(PRWEB UK) 29 March 2013
The online health food supermarket, GoodnessDirect, has doubled the size of its range of foods from Organico.
Laurence Cooper, Buying Manager at GoodnessDirect, comments: "Organico offer artisan products at an affordable price. We now have a wonderful range of olives, vinegars, condiments and pasta that would grace the shelves of any respectable Deli."
The organic Mediterranean brand offers a wide range of specialities which easily lend themselves to the healthy Mediterranean diet.
As the largest range of organic Mediterranean food on the market, Organico are a UK company who import traditional foods such as handmade grissini, organic dips and bruschettas, risotto mixes, and various artisan pastas, olives, oils and vinegars.
Organico's produce is sourced from family businesses, small producers and co-operatives as a result of their commitment to sustainability and organic welfare.
GoodnessDirect is the health and well-being haven with 1000s of foods available to be delivered to your door. We cater for customers of traditional foods, vegans and vegetarians, organic foodies, and those on a restricted diet such as gluten or dairy free. Our website features in-depth dietary information, so that you know exactly what you're getting, and we'll happily gift-wrap it for you to make a gift to your friends. Visit http://www.goodnessdirect.co.uk.
For more information or photos, contact Tschaka Roussel-Milner
tschaka.roussel(at)goodnessdirect(dot)co(dot)uk
01327 701576