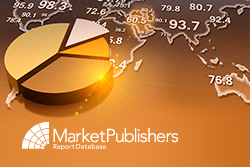 London, UK (PRWEB) March 26, 2013
What does the Mexican market for agrochemicals and pesticides look like? How can be the current market situation described? What are the prevailing market development trends? How is the agrochemicals and pesticides industry regulated in the country? What are the top market participants? How can the business environment for the development of the industry in the country be characterized? What are the major consumers of the agrochemicals and pesticides in Mexico? What forces are shaping the market? What does the investment climate look like? What do production, demand and foreign trade trends look like?
These and other important issues are discussed in new market research report "Agrochemicals and Pesticides Market in Mexico: Business Report 2013" created by Business Analytic Center (BAC) has been recently published by Market Publishers Ltd.
Report Details:
Title: Agrochemicals and Pesticides Market in Mexico: Business Report 2013
Published: March, 2013
Pages: 86
Price: US$ 1,160.00
http://marketpublishers.com/report/industry/agriculture/agrochemicals_n_pesticides_market_in_mexico_business_report_2009.html
The report offers a complete overview of the Mexican agrochemicals and pesticides market. It contains detailed examination of the current market state, brief country profile, description of the country's business environment. The research uncovers essential information on the agrochemicals and pesticides production and consumption, discloses export and import statistics and traces recent price fluctuations. The study also includes profiles of the top producers and lists major suppliers and buyers. It provides thorough discussions of the key factors having effect on the market change; presents relevant data on regulation for pesticides use in Mexico; evaluates the investment climate in the country.
Report Scope:

Country profile for Mexico: general information (geopolitical situation, administrative structure, political system and level of economic development) and main economic indicators.
In-depth overview of agrochemicals and pesticides market including description of agrochemicals and pesticides, brief summary of the world market for agrochemicals and pesticides, Mexico's production and consumption dynamics, regulations of pesticides use in Mexico.
Deep analysis of the external and internal factors influencing the market.
Vital information on the top producers of agrochemicals and pesticides in Mexico (with contact details and review of product range).
Foreign trade statistics: export/import volume, structure and dynamics.
Data on the major suppliers, traders and consumers.
More new research reports by the publisher can be found at BAC page.