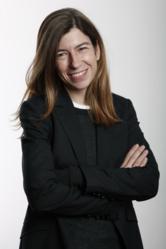 The role of the designer in our contemporary society requires an increasing ability to view design from many different perspectives. - Elena Pacenti, recently named director of the Domus Academy School of Design at NSAD
San Diego, CA (PRWEB) March 26, 2013
NewSchool of Architecture and Design (NSAD) announced that Elena Pacenti will join NSAD in August as director of the recently created Domus Academy School of Design at NSAD. Pacenti comes from Domus Academy in Milan, Italy, which is one of the top-ranked design schools in the world. She will lead the development of new global design education programs, such as NSAD's Bachelor of Interior Design, that prepare students for careers in international design. The interior design program launched last fall, and classes begin in October 2013.
Pacenti currently directs the Design School at Domus Academy in Italy, and she brings the Domus Academy emphasis on advanced design methodologies for anticipating needs and trends in a continuously evolving society. The academy has received recognition from around the world, including being nominated three times by Businessweek magazine as one of the best design schools in the world. The academy also received the prestigious Compasso d'Oro award for the quality of its academic and research approaches, and it was included in the 2012 publication of Masterclass: Product Design: Guide to the World's Leading Graduate Schools from Frame Publishers.
Pacenti brings to her new position both professional and academic expertise in design-related fields. She was director of the Domus Academy Research Center from 2002 through 2009, where she oversaw the development and coordination of design innovation research projects for the European Union and for government and private groups in Italy. In 2011, she established the Master in Service and Experience Design program at Domus Academy. Pacenti has an undergraduate degree in architecture and a PhD in industrial design, both from the Politecnico di Milano. Throughout her career, she has focused on research and application of theory and practice in the areas of service and product design.
"I am honored to join NSAD and to have the opportunity to enhance and expand its offerings in global design education," said Pacenti. "The role of the designer in our contemporary society requires an increasing ability to view design from many different perspectives. I look forward to helping NSAD students prepare for professional practice in design-related fields and learn to adjust and respond to the evolving challenges of this industry."
In November 2012, NSAD announced new global design education offerings developed in collaboration with both Domus Academy and Media Design School (MDS) in New Zealand. NSAD, Domus Academy and MDS are all institutions within the Laureate International Universities network. The new programs, beginning in the 2013–2014 academic year, include the Bachelor of Interior Design program and an opportunity for students enrolled in NSAD's Digital Media Arts program to obtain a certificate of study from MDS.
To mark the start of these collaborations, a visiting professor from Domus Academy, Paolo Giachi, taught an architecture studio course on retail interior design at NSAD last fall. Giachi, an Italian architect and interior designer who designs retail stores for luxury fashion brands around the world, was named one of the "13 Must Know Luxury Boutique Designers" by Luxury Society in 2011. NSAD also recently announced the formation of the Domus Academy School of Design at NSAD Advisory Board to provide counsel on globally inspired design-related curricula and its application to professional practice. Board members are renowned, award-winning designers from around the world whose collective experience has influenced many recognizable international and local design projects.
Ongoing scholarship opportunities are available for NSAD's Digital Media Arts program and Interior Design program for 2013–2014. Some of these opportunities involve contests, such as the Digital Media Arts "Cut It Out" Scholarship Competition and the Bachelor of Interior Design Scholarship Competition.
About NewSchool of Architecture and Design
NewSchool of Architecture and Design (NSAD), founded in 1980, is located in San Diego, California. For the past two years, DesignIntelligence has ranked NSAD among the top 10 undergraduate architecture schools in the western United States in its publication "America's Best Architecture & Design Schools." NSAD is accredited by the Accrediting Council for Independent Colleges and Schools (ACICS), a national accrediting agency recognized by the U.S. Department of Education and the Council for Higher Education Accreditation. NSAD's Bachelor of Architecture, Master of Architecture and Executive Master of Architecture programs are accredited by the National Architectural Accrediting Board (NAAB). NSAD also offers a pre-professional Bachelor of Arts in Architecture, along with a Bachelor of Science in Digital Media Arts, a Bachelor of Science in Construction Management, a Master of Construction Management and a Master of Science in Architecture. The school's expanding global design education offerings include a new Bachelor of Interior Design program available in 2013–2014. For more information, visit http://www.NewSchoolArch.edu.