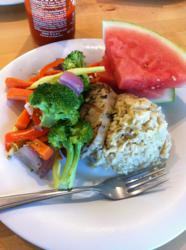 "Our Nutrition and Culinary approach helps families with better nutrition choices that meet their health goals," stated John Taylor, chairman of scientific advisory board.
Asheville, NC (PRWEB) March 27, 2013
BalanceME, one the country's leading summer weight loss camps, proudly joins the Academy of Nutrition and Dietetics during March in celebrating National Nutrition Month®. This year's National Nutrition Month theme is "Eat Right, Your Way, Every Day" and encourages everyone to develop a healthful eating plan that incorporates individual food choices and preferences.
"In our experience, teens, young adults, and often parents really struggle to understand calorie content and portions sizes," commented John Taylor, BalanceME's chairman of board of directors. "In our summer weight loss camps we take recipes our campers are familiar with and teach them how to change ingredients to make it a healthier option. Those types of dietary changes tend to be easier and more effective than drastically overhauling diets."
BalanceME's campers had the highest reported weight loss of any summer weight loss camp in 2012, with campers averaging 4.25 lbs lost per week. BalanceME's proprietary Health Score measures cholesterol, blood sugar, blood pressure, resting pulse rate, cardiovascular fitness and strength, along with a variety of other medical and emotional measures. This Health Score gives campers an overall picture of health and shows health gains beyond just the number on the scale.
"Our Nutrition and Culinary approach helps families with better nutrition choices that meet their health goals," continued Mr. Taylor, "The best way to make healthier choices is to find healthier foods you love prepared in healthier ways while trying new foods and preparing them in different ways to find how you like them."
Here are a few tips BalanceME's expert staff summer weight loss camps offers to families to help them "Eat Right, Your Way, Every Day":

Personalize your eating style: Find new foods you love. Spend time in the produce section. If you don't like a particular fruit or veggie at first, try it again prepared in a different way.
Plan ahead: Avoid those "no healthy options" situations by planning ahead. Buy healthy groceries that you can pack easily, and prepare them the night before so you can grab and go in the morning. Eat in advance of a party or bring a healthy option to a friend's house. This helps keep you out of vending machines and gas station food.
Remember food is your fuel: Taking in healthy calories increases energy, brain function, and strength. If you want to improve performance at school, work, or sports, put good fuel in your tank.
•Involve the kids. Do you have a kid that doesn't like any food or won't try anything? Involve them in the preparation. Let them listen to their music or talk about what they want to talk about to make it fun for them.

Good Health is the Reward: We encourage families not to hold dessert up as the ultimate food. If we say "eat all of this to get that" then we are implying "this" food isn't as good desirable as "that" food. Make healthy habits the reward or have other small rewards for your kids besides getting dessert or going for ice cream.
As part of this public education campaign, the Academy of Nutrition and Dietetics' National Nutrition Month website includes a variety of helpful tips, fun games, promotional tools and nutrition education resources, all designed to spread the message of good nutrition around the "Eat Right, Your Way, Every Day" theme.
Families interested in enrolling their child at BalanceME summer weight loss camps can contact John Gordon at (800) 975-0435 or visit our website http://www.BalanceME.com, for more information.
###
BalanceME health camps (http://www.BalanceME.com) were created in response to the growing obesity epidemic and the unmet needs for a realistic, scientific, and personalized approach to fitness and weight loss. The BalanceME approach, called the ME Plan, is designed to Motivate & Educate on diet + activity + lifestyle changes. Founded by professionals and guided by experts who provided leadership to some of the largest behavioral health, mental health, and treatment programs in the country, BalanceME is working to become the leader in fitness and weight loss programs. BalanceME operates three summer camps in Cape Cod, Massachusetts, Dallas, Texas, and Santa Cruz, California. For additional information please visit http://www.balanceme.com or call (800) 975-0435.