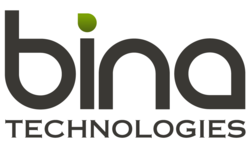 Bina is extremely well-positioned as the fast, accurate and scalable choice for genomic analysis that is keeping up with the rapid pace of innovation occurring in DNA sequencing today.
Redwood City, CA (PRWEB) March 26, 2013
Bina Technologies, the genomic big data science platform accelerating personalized medicine, today announced that it has closed a $6.25 million round of Series B financing led by Sierra Ventures. Founded in 2011 by experts in complex, large-scale genomics, big data and high-performance computing, Bina's mission is to process and mine vast volumes of genomic information as the leading big data platform for the world's healthcare industry.
With this investment, Bina plans to aggressively expand their development, marketing, sales and support teams to manage the growing market demand for scalable genomic analysis solutions and the company's product development initiatives this year. The company will be raising additional investment from a strategic life sciences investor to close out the round in the coming months.
"We're fortunate to have Sierra Ventures as our venture capital partner as well as the financial support of some of the most respected and successful private investors in big data technology," said Narges Bani Asadi, founder and CEO of Bina. "We believe the intersection of genomic analysis and big data is creating disruptive new technologies for mining valuable medical information in the enormous streams of genomic data being generated today. Analyzing this kind of large-scale data has been too expensive or too technically difficult for researchers and clinicians until now. Our mission is to make large-scale genomic analysis more accurate, accessible and affordable for the entire medical community."
"Bina has critical elements that we look for in category-defining companies — a world-class founding team, great technology, and a disruptive and large market opportunity," said Tim Guleri, managing director at Sierra Ventures. "In the immediate future, the $15 billion genomic research industry is ripe for solutions like Bina, which allow for powerful and scalable genomic analysis. Vertical-specific applications of big data, such as what Bina is doing in healthcare, is how the real value of big data will ultimately be realized and revolutionize the $100B healthcare market."
In addition to the funding, Bina is announcing a key partnership with Dr. Elizabeth Worthey at the Medical College of Wisconsin focusing on accelerating newborn whole genome sequencing and screening in the neonatal intensive care unit. Dr. Worthey works at the frontiers of whole genome sequencing, revolutionizing pediatric care by diagnosing genetic diseases in infants within the first 28 days of life.
As part of this announcement, the Genetics Department of Stanford University led by Dr. Michael Snyder will be coming onboard as an official customer after a successful pilot program. Dr. Snyder is deploying Bina's Genomic Analysis Platform to analyze several hundred whole human genomes, each in 4 hours or less, a task that previously took days to weeks to complete.
"Bina is extremely well-positioned as the fast, accurate and scalable choice for genomic analysis that is keeping up with the rapid pace of innovation occurring in DNA sequencing today," said Dr. Michael Snyder, Chair of the Genetics Department at Stanford. "Before we started using the Bina Genomic Analysis Platform whole human genome analysis typically took days if not weeks to complete. Bina allows us to blow away the data analysis bottleneck that had been holding us back, accelerating our research forward drastically."
To learn more about Bina Technologies, please visit: http://binatechnologies.com.
About Bina Technologies
Bina is the big data science platform accelerating personalized medicine for researchers and clinicians requiring fast, accurate and scalable genomic analysis. We develop cutting-edge big data technologies to dramatically reduce the amount of time and money required to process raw genetic data in order to generate insights for personalized medicine.
Bina was started by a team of Stanford and Berkeley researchers and entrepreneurs, with the vision that whole genome sequencing (WGS) is just the beginning of a brighter future. Bina is accelerating personalized medicine, one genome at a time.
We are a team of data scientists, bioinformaticians, software developers and high performance computing experts working in harmony in Redwood City, California. To learn more, visit: http://binatechnologies.com.
About Sierra Ventures
Since 1982, Sierra Ventures, a privately held venture capital firm, has helped hundreds of entrepreneurs around the world begin and grow successful technology companies. Sierra is investing out of its tenth fund and currently has more than $1.2 billion of capital under management, focusing on investments across all areas of the information technology sector from semiconductors to enterprise software. For more information please visit: http://www.sierraventures.com.