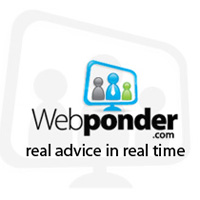 Visitors to Webponder.com are looking to ask a nurse a question online, for advice from a lawyer, or even for online mental health therapy.
Miami, FL (PRWEB) March 27, 2013
Expert advice website Webponder.com, which connects experts and people in need of legal advice, answers to health questions, mental health counseling, technology assistance, and other fields of interest through live video consultations, was recently featured on Tech Talk, a radio show that highlights technology trends and helps individuals choose and use technology to enhance their lives.
The interview between Patric Welch, the founder of Noobie, Inc. and host of Tech Talk, and Steve Thompson, co-founder and managing director of Webponder.com aired on March 25, 2013, and can be found on Noobie.com. The interview covers several topics such as how Webponder works, where do the experts come from, and how much it costs to get a video consultation from an expert or professional.
Visitors to Webponder look for advice in a variety of areas. Some are looking to ask a nurse online a health question, others are looking for advice from a lawyer on how to beat a DUI charge, while others are seeking online therapy with an online therapist.
Each expert listed on Webponder.com chooses his or her own video consultation rate that they consult at, and that rate is listed in their profile, along with their background information, professional credentials, uploaded informative articles, and even brief video clips on whatever topic they choose. However, because many experts and professionals on Webponder offer free initial video consultations, users many times can use Webponder and get the advice they are looking for at no charge. There is no charge to register as someone looking for advice on Webponder, and the only fee for the person seeking advice is the expert's posted consultation rate.
A recording of the interview can be found on Noobie.com here, the Webponder interview begins a few moments after the 50:00 minute mark. Media inquiries for Webponder.com can be directed to Managing Director Steve Thompson at (305) 373-7775.