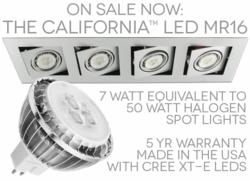 LED Waves is currently offering 10% off and free shipping on the CA LED MR16 light bulb.
Brooklyn, NY (PRWEB) March 26, 2013
Earlier this year LED lighting supplier and OEM LED Waves gave a sneak peak at the exclusive California™ LED MR16: a 7 Watt replacement for a 50 Watt halogen spot light bulb. Now in stock, preorders for this highly anticipated light bulb have started shipping out this month.
LED Waves is currently offering 10% off and free shipping for the California™ LED MR16 as part of their ongoing Waves of Savings promotion. Normally $24.95 per unit, the sale price for this bulb is $22.45 through Sunday, March 31, 2013. (Customers enter coupon code WAVES at checkout online to apply these discounts.)
The California™ is the latest low volt light bulb from LED Waves' exclusive line of replacement LED lamps made in the USA. And at 540 lumens, it is also their brightest MR16. With the higher quality control afforded by in-house assembly and the Cree XT-E LEDs inside, LED Waves places a 5 year warranty on each CA™ LED MR16. This bulb is available in warm white (3000K), neutral white (4000K) and cool white (5000K); and in beam angles of 25 and 40 degrees.
LED Waves is releasing the CA™ MR16 in conjunction with new commercial quality LED ceiling light fixtures. Retrofitted with a 12v LED driver, these modular designs come from Light Waves Concept, a partner company specializing in low volt decorative lighting.
The recessed square MR16 fixture series comes with a 12v transformer to connect with line voltage within the ceiling. It is available in single square, 1x3, 1x4 and 2x2 units, with a GU5.3 lamp holder set into each square. A gimbal ring allows users to adjust the direction of each spot light up to 45 degrees from the center.
The suspended square MR16 fixture series features a similar style, but is more suited for commercial spaces with high ceilings. It hangs from a set of cables to bright the downlights closer to the workspace. It is available in 1x2, 1x3, 1x4, 2x2, 2x3 and 2x4 square units.
By installing these ceiling light fixtures with 7 Watt CA™ LED MR16s, rather than 50 Watt halogens, the average user stands to save over $200 in electricity and over a dozen product replacements over the operating life of each LED bulb (lifespan projected over 30,000 hours).
The recessed and suspended square LED MR16 ceiling light fixtures ship with the 12v transformer and bulbs pre-installed. Customers may specify the color temperature and beam spread of their spot lighting fixtures, creating thousands of design possibilities. These LED retrofit fixtures may be special ordered by calling LED Waves at 1(800)986-0169.