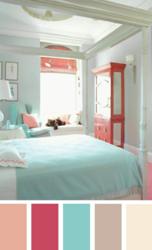 Birmingham, AL (PRWEB) March 28, 2013
With every year, new colors come onto the market. Prestige Painting-Company believes in going even deeper, breaking up the latest trends by the mood of the season. And with Spring cleaning getting underway, most homeowners are thinking beyond the broom. Looking at a fresh, new cover of paint on the walls can be a daunting prospect.
Prestige consults with the masters by resourcing an industry secret that most artists, fashionistas and graphic designers employ. It's a list called the Pantone Fashion Color Report. Scientifically compiled, quite a bit of it takes its cues from the world of haute couture -- New York Fashion Week designers. The colors that show up at Fashion Week are the ones that end up seeping into just about everything else in life, from product design to advertisements and, yes, even home decoration, so the Pantone colors are a great predictor of what the eyes of people will be seeing everywhere over the next 12 months.
Craig Miller with Prestige Painting-Company reveals, based on the 2013 Fashion Color Report focuses on balance, but he notes that the 2013 Pantone color of the year is Emerald.
"The full list from Pantone 2013 is Dusk Blue, Tender Shoots, Lemon Zest, Linen, Poppy Red, Nectarine, Monaco Blue, African Violet, Emerald and Grayed Jade, while the Men's list adds Vibrant Orange, Tidal Foam, Sunflower and Alloy. This is a great set of colors that we're just crazy for, and to check out any of these colors in detail drop by Prestige Painting-Company," Miller says.
"In the last two or three years, pastels have made the jump from primarily Easter-related tones to the hip worlds of high fashion and design, and that's primarily because of the power that is the Internet," Miller admits. "It's always hard to pinpoint where a trend started, but signs point toward the pastel trend springing from the Harajuku "kawaii" (meaning "cute", or even "very cute") culture in Tokyo, Japan, which took the colors on as part of their primary palette."
He also suggests that those in the market, "point your browser to Pinterest, and type "spring colors" into the search bar. The images that appear are a few shots of flowers, some earthy tones on fancy models, and a whole, whole lot of gorgeous pastel." Miller adds, "In fact, Prestige Painting has a Pinterest account where our experts often display exceptional uses of nearly every major color as resources when you take Spring cleaning to a higher level."
Prestige Painting-Company
Prestige Painting-Company was founded on old-fashioned values, like honesty and trust. Unlike other painting contractors, Prestige doesn't charge hidden fees or tack on extra hours to drag out a project. Our business also offers complimentary, no-obligation estimates and experience.