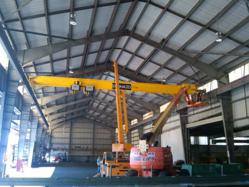 Stockton, Al (PRWEB) March 29, 2013
On March 1st, Overseas Hardwoods Company (OHC) completed the installation of a new bridge crane and materials handling project at its Stockton, Alabama manufacturing facility. The project streamlines the operation of finished goods while offering higher capacity for future growth.
"We're constantly looking at areas to gain efficiencies, and this project truly captures significant improvements," explained Gregory Robinson, Vice President of Operations. The project consisted of installing a 7.5 ton bridge crane, a custom designed below the hook device for handling full trailer length flooring and modifying the finished goods portion of the plant. Robinson further noted, "These changes will enable us to reduce our dependence on forklifts, greatly improve in-process and finished goods storage and offer direct truck loading capability." In addition, handling full trailer length floors with a bridge crane will lessen the likelihood of damaging finished product. Robinson concluded that "the use of bridge cranes also reduces the number of forklifts driving around the facility and likely enhances the overall safety of the plant for our team members."
Bridge cranes are manufactured to ensure it is operator friendly, providing high efficiency factors, incorporating safety norms and cost effective solutions for providing heavy duty material handling requirements of a project.
It becomes necessary, when the purchasing of a Bridge crane the persons responsible for operating such cranes should undergo training regarding safety courses to obtain trouble free service from the equipment. "Our operators have undergone extensive seminars to ensure safety along with expanding capacity of this new equipment," Robinson said. "Our crane source, the manufacturer and supplier of the equipment had all the related services for providing training, video demonstrations, which was conducted for all the staff for efficient and practical application."
Bridge crane operation requires registration and licensing by the local authorities to ensure use of properly maintained equipment and observance of safety norms in the area of bridge crane installation.
Overseas Hardwoods Company
As an industry innovator since 1967, OHC provides High Performance Lumber Products to the transportation, power distribution, decking, lumber processing and specialty lumber industries. With its "Solving Customers' Problems" motto, OHC endeavors to offer highest quality products and services through its state of the art manufacturing facilities.