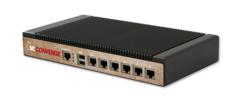 M:Converge makes it easy--simply connect two BGAN terminals in the appliance, and you instantly double your throughput automatically. -- CEO, Steve Newell
Norfolk, Va. (PRWEB) March 27, 2013
MissionMobility, a leading provider of Military-Grade Network Communication Solutions, is proud to announce the launch of an unprecedented new product, the M:Converge. M:Converge complements Inmarsat Government's BGAN ConvergeTM and is available for use on the Inmarsat BGAN network.
An understanding of military requirements fosters a clear need for reliable access at high speeds. M:Converge, operating over Inmarsat Government's BGAN Converge solution, allows timely access to highly important data.
"With the critical needs of the end user in mind, Inmarsat Government's BGAN Converge offering dramatically enhances throughput up to 800 Kbps bi-directionally," said David Helfgott, President and CEO of Inmarsat Government. "It is a practical and effective turnkey alternative to VSAT, while maintaining BGAN's core characteristics of reliability, security, scalability and global coverage that our government customers demand for their mission-critical communications."
MissionMobility's President and CEO, Steve Newell adds, "M:Converge makes it easy--simply connect two BGAN terminals in the appliance, and you instantly double your throughput automatically."
M:Converge supports various fixed and mobile platforms and does not require changing any existing BGAN equipment. It offers faster, higher-quality interactive video conferencing, video streaming and VoIP services. The M:Converge interoperates with Inmarsat Government's Converge server located at the Inmarsat Satellite Access Station (SAS). The end-to-end service is highly portable, supports encryption and provides global, on-demand streaming capabilities.
MissionMobility's M:Converge is also compatible with any of MissionMobility solution devices as well as MissionMobility competitors' kits.
MissionMobility, a portfolio company of private investment firm, The White Oak Group, is a Solutions Engineering company that develops and integrates secure, deployable Baseband Communication Solutions. The company's products and integrated solutions are designed to securely extend both classified and unclassified networks; simultaneously providing video, voice and data capabilities, enabling users to conduct secure and non-secure mission critical planning and execution, from anywhere in the world. For more information about MissionMobility, visit our website at http://www.missionmobility.com.
For Additional Information, Contact:
Chris Campen, Communications Specialist
###