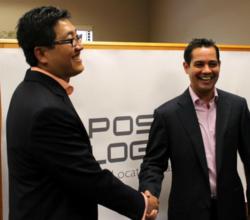 We're in the business of growing other people's GPS tracking businesses. Diversity strengthens us and helps us do that every single day
Naples, FL (PRWEB) March 27, 2013
With employees of thirteen different nationalities, co-founders from the Dominican Republic and Laos, and clients in more than fifty countries around the world, diversity isn't just an award for Position Logic, which provides hosted GPS tracking platform software to an international client base – it's a way of life. Their website, which you can find at http://www.positionlogic.com, is currently completely available in both English and Spanish, with plans to add other languages like Portuguese in the near future.
In an interview on the FACES website, Position Logic CEO and co-founder Felix Lluberes points out that diversity in the workplace is essential when trying to grow and service a diverse client-base around the world. "People judge how professional you are by how well you can communicate," says Lluberes – and having a diverse multinational staff means they can communicate with and serve clients better than Position Logic's competitors, who often are simply not staffed to compete in the global market.
But having a diverse team of highly-qualified staff hasn't just helped Position Logic in foreign markets – it also helps to grow and service clients in the United States, as well. "That's because hiring such talented individuals means that everyone at Position Logic is a leader, not a laborer," says Lluberes, "which in turn means clients across the United States also see a standard of service that other GPS tracking platform providers just can't match."
Position Logic CTO and co-founder Hong Long sums up the importance of diversity to the company when he puts it this way: "We're in the business of growing other people's GPS tracking businesses. Diversity strengthens us and helps us do that every single day."
To watch a video about Position Logic and the FACE award, as well as other videos by and about Position Logic, please visit their See Us in Action page. Parties interested in starting their own GPS tracking business can also request a demo of Position Logic's GPS tracking platform and start learning how they can grow their own business.
About Position Logic
Position Logic, LLC, an Inc. 500 company, is a leading B2B location-based services provider with offices in Florida, Illinois and the Dominican Republic and clients in over 50 countries spread over the continents of North America, South America, Europe, and Africa and in the Middle East region.
For more information about Position Logic, please contact our Sales Team by phone at 866-676-2372 (Toll-Free) or 239-465-0587 (US/International), 801-6650587 (fax) or email at sales(at)positionlogic(dot)com. You can also visit the Position Logic website at http://www.positionlogic.com