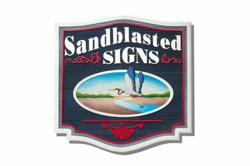 Sign•Art Products has been proud to distribute Sign•Foam for 25 years, and we are grateful to have a relationship with General Plastics that is almost as enduring as the product itself
Tacoma, WA (PRWEB) March 28, 2013
Sign•Arts Products Corp. will showcase premier Sign•Foam3® products at the 2013 ISA International Sign Expo April 4-6 in Las Vegas, Nevada, the largest sign industry show in the world. Sign•Arts will be exhibiting at the Sign•Foam booth, #2437, in the Mandalay Bay Convention Center. This annual event brings together manufacturers, users and suppliers of on-premise signs and other visual communications systems.
Sign•Foam3® is the most reliable and enduring outdoor signage and modeling board available. This high-density, closed-cell polyurethane foam – also known as high-density urethane, or HDU – delivers exceptional versatility and outstanding value as a creative medium for dimensional sign making, environmental graphics, 3-D displays and model making. It is easily worked with the simplest hand tools as well as sophisticated CAD/CAM routers and CNC machines.
A dream medium for creative sign makers
"Hands down, Sign•Foam3® is the best HDU on the market. And now, it is even more affordable, offering sign makers the greatest opportunities for both creativity and profitability," said Joe Scienski, chief executive officer of Sign•Arts Products. "The material is always consistent and predictable, with a smooth cell structure that supports intricate designs, crisp edges and very fine surface finishes. Not only does it bring out the sign maker's artistry, it saves time and money compared to using wood or lower-quality HDUs."
Because Sign•Foam3® is strong, durable, completely waterproof, and does not warp, bow, crack, rot or decompose, it is well-suited to any indoor or outdoor application. Made in the United States, it is nontoxic and free of VOCs and CFCs. It is also eco-friendly, with a minimum 16 percent green content. Whether carved, routed, sandblasted or machined, it is ideal wherever a uniform, grain-free, long-lasting and dimensionally stable material is desired. Sign•Foam3® is available in 10-, 15- and 18-pound densities through Sign•Arts' network of distributors, who also offer a full line of companion products.
LED-lit Sign•Foam3® debuts at ISA Sign Expo
During the show, Sign Arts Products will introduce a unique "lit-from-within" version of Sign•Foam3®. Incorporating LED technology, this innovative substrate adds the dimension of lighting to the traditional sign maker's artistry and capabilities. In addition, Sign•Arts will feature demonstrations of Grain•Fraim™ – a specially engineered sandblasting screen used with Sign•Foam3® that makes it easy to replicate a natural wood grain texture. Attendees who register at the Sign•Foam booth will be eligible for a drawing to win a Grain•Fraim™ ($525 value) for their own sign shops.
At the Sign•Foam booth, show participants will also have the opportunity to get tips from noted dimensional sign making expert Michael Bloomquist – the author of the how-to handbook, "Mastering the Art of Dimensional Signmaking." Sign makers can ask questions as well as sign up for Bloomquist's popular workshops, where participants learn how to profitably design, fabricate and install sandblasted, carved and routed signs.
"Sign•Art Products has been proud to distribute Sign•Foam for 25 years, and we are grateful to have a relationship with General Plastics that is almost as enduring as the product itself," Scienski added. "Our companies share a commitment to providing high-quality products and exceptional service to the sign makers who use them."
Sign•Arts Products Corporation – Distribution in the United States and Canada
Based in Laguna Hills, California, Sign•Arts Products Corp. is the exclusive U.S and Canadian distributor for Sign•Foam3® ®, the premier high-density urethane (HDU) substrate for dimensional signage, environmental displays, models and prototypes. Sign•Arts connects 3-D sign makers and designers of dimensional displays with Sign• Foam3® and a full line of companion products through its extensive network of distributors. Visit http://www.signfoam.com
General Plastics Manufacturing Company – International distribution
Tacoma, Washington-based General Plastics has been a leading innovator in the plastics industry for more than 70 years. The company develops and manufactures rigid and flexible polyurethane foam products, which include its signature LAST-A-FOAM® brand series and build-to-print composite parts. LAST-A-FOAM®
FR-4500 sign-industry products are distributed internationally under the name Sign-Block by General Plastics. General Plastics is certified to ISO 9001:2008/AS9100C and meets such demanding quality systems as NQA-1, Mil-I-45208A and Boeing Company D6-82479. Visit http://www.generalplastics.com.