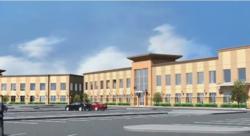 . . . we are built-to-suit so we know our clients and so it's not really affected the way we do business.
El Monte, CA (PRWEB) March 27, 2013
Established in 1989 in America, YK America originally began as a development company with roots in Taiwan in the late 1960s. Four years ago, they turned to the EB-5 program during the economic down turn when banks were no longer giving construction loans. The principals of YK America Regional Center also own their international real estate development company, YK America International Group, and their holding company, Pacific Anchor. Currently, YK America as three EB-5 projects, one of which, a center in El Centro, has approved an investor's I-829, the removal of conditions petition for permanent U.S. residency.
As developers first, YK America owns the land and buildings their projects are on and preleases their projects. They specialize in residential, land, and commercial real estate properties such as regional shopping centers, hotels, and mixed use centers. The tenant occupancy policy, recently issued by USCIS has not affected YK America because their projects are built for specific tenants. Ting says, "Although we've received some RFE's (Requests for Evidence), our projects are different because we prelease, we are built-to-suit so we know our clients and so it's not really affected the way we do business."
One of the major issues Ting faces with the EB-5 program are the slow processing times. He is often at a loss on what to tell investors who want to know when their petitions will be processed and approved. It can take a year or more for USCIS adjudicators to process petitions, which does affect business. Ting says, "It creates some problems with funding because the money has to go to the project to finish that and the city is waiting for those retail taxes, we're waiting for the project, customers are waiting for their green cards, so we want a win, win, win condition, not a lose, lose, lose condition."
There is a lot of uncertainty with overseas investors with the EB-5 program and reports of fraud make investors even more hesitant. Ting says the best way for investors to protect themselves from a faulty project is to do their due diligence. Foreign investors often do not know or understand U.S. policy and law so it's important that they have an agent who does. YK America relies on agents overseas to help inform and market their projects to investor; however, Ting says investors must do their own due diligence. His best advice to is to do research; know who is behind the project they're interested in, what experience they have, and what their relationship is to the local government. Having a good economist that understands the EB-5 program requirements and the job creation nexus is also an essential way for investors to ensure their project will be successful.