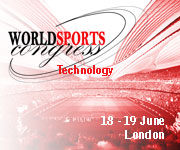 It's an IRN summit!
(PRWEB UK) 27 March 2013
The World Sports Congress is proud to announce the launch of its second edition focusing on sports technology, taking place on 18th-19th June in Geneva, Switzerland.
UEFA, ASOIF and the IOC have confirmed their participation in the Congress alongside many other leading sports federations and associations. The agenda is structured as a 'life-cycle' model and will address a number of topics, taking the delegation through the process of implementing technology into sport. The main focus of the Congress will be investigating strategies to enhance the fan experience with the implementation of technology. It will also have a strong focus of ensuring commercial viability when developing technology in both profit and not-for-profit organisations.
Tim Goethals, Head of Projects at the Association of Summer Olympic International Federations will be giving an overview of ISIS, the International Sports Information System that the association is currently developing and Daniel Marion, Head of ICT, UEFA will be elaborate on how strategic partnerships in sport and consumer technologies can increase efficiency, reduce costs and maximise flexibility. Alex Huot, Social Media Editor, International Olympic Committee will discuss the use of social media in sport from a sporting federation perspective, giving an overview of the social media features in place for the Olympic Games.
Christophe Heimes, Manager of Strategic Partner Development, Youtube Sports EMEA will give an insight into how YouTube and social media can build an online community, discussing how consumer patterns can be analysed in order to create a strategy which meets the need of the consumer. The International Rugby Board will also discuss their social media with Tom Chick, Social and Digital Media Manager explaining how the IRB plans to maximise social media utility for future events including the Rugby World Cup 2015.
World Sports Congress: Technology is the second edition of the World Sports Congress series held by the global summits organiser, IRN and will be supported by the MEI, Major Events International, the UK based company that specialises in the support of Bid and Host cities for Olympic and World Cup events in Brazil, Russia, China, South Korea and Japan.
For regular updates follow World Sports Congress on Twitter, @WSC_2013 and join the LinkedIn Group 'Sports People'.
For more information and registrations contact IRN at +44 (0) 20 7111 1615 and info(at)irn-international(dot)com.