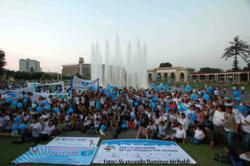 With the increased focus on all things autism during the month of April, the time is ripe for the Global Autism Project to remind the world of how autism affects the world outside of the U.S.
New York, NY (PRWEB) March 26, 2013
One in 88 children are affected by Autism Spectrum Disorder. A recent study has put this number as high as one in 50. Although these reflect U.S.-based statistics, they apply to the global population, many of whom are under-served. Consider this scenario:
Imagine a mother in Kenya whose child has some form of Autism Spectrum Disorder (ASD).
Every day she lives in fear that he will run out on the street when she's not looking. An oncoming car will hit him. He will die.
She has so much else going on that this scenario is all too possible. She'll turn to the stove for a minute and he'll be out the door again.
Her solution: burning the soles of his feet so he can't walk from the pain.
Yes, it's difficult to do that to one's child. But what other option does she have? She can't even begin to understand why he behaves this way. Did she do something to deserve this?
Maybe. Sometimes she ties him up to the bedpost. Sometimes to a tree. Whatever works best to keep him still and away from harm. This is the only way, she convinces herself.
Unfortunately, this story happens over and over again. There are literally countless individuals, families, and communities throughout the world that are affected by autism. Many of these are under-served, lacking the knowledge and understanding to properly deal with autism.
That's where the Global Autism Project comes in. They help communities around the world learn about autism. So far, they have partnerships in five different countries (Indonesia, Peru, Kenya, India, and Ghana) and look forward to connecting with many more in the future.
The Global Autism Project partners with existing centers to help them educate the community and families they serve. How to teach children with autism, and to treat them with compassion instead of fear and neglect. They train staff in Applied Behavior Analysis (ABA) so that these centers are truly bringing the best available, evidence-based methods to children with autism, their families and communities.
Multiple trips to each partner every year combined with weekly supervision calls from their base in New York City ensures the maintenance of strong partnerships, contributes to their growth and continued success, while fostering their independence.
This World Autism Awareness Month they want you to help us unshackle these children; help soothe those burned feet and show their families that there is a way, that they can access the available knowledge just as quickly as anyone here on their computers.
With the increased focus on all things autism during the month of April, the time is ripe for the Global Autism Project to remind the world of how autism affects the world outside of the U.S. A child with autism deserves the best treatments and care, no matter where they live.
In order to this, they are launching a Virtual Street Team that will contribute to online conversations regarding autism around the world. The Virtual Street Team will kick off this month-long campaign with a Virtual Rally on April 2nd, which is World Autism Awareness Day. On this day, the team will literally flood the internet with conversations, Facebook posts, Tweets, Pinterest tags, and anything else about autism around the globe. The organization has been working closely with each of their partners to make this World Autism Awareness Day a truly global celebration. They want to make this big and you can help them do that!
Molly Ola Pinney, the CEO and founder of the Global Autism Project is available to speak with anyone regarding the organization and/or our plans for this month at any time. Feel free to contact her at molly(at)globalautismproject(dot)org or call her at 718-764-8225.