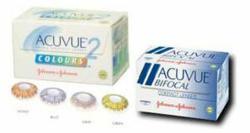 Stock up while these products are still being produced because once they are gone, they are gone forever.
Elmsford, NY (PRWEB) March 26, 2013
New York-based Eye Care Associates enters its 14th year as the operator of CLEContactLenses.com, an online e-tailer that sells contact lenses, contact lens solution, contact lens inserter/remover and other items related to eye care such as eye vitamins & supplements.
Last month Vistakon a division of Johnson & Johnson Vision Care, Inc., announced that three Acuvue contact lens brands will be removed from its U.S. product portfolio later this year. Acuvue Bifocal, Acuvue 2 Colour and select base curves and parameters of Acuvue brand contact lenses will be discontinued at different points throughout the year.
On July 1, 2013 the first wave of discontinuance will begin with all Acuvue brand contact lenses no longer being available in 9.1 base curves or 8.4 and 8.8 base curves of parameters from -6.50 to -11.0. Acuvue products with 8.4 and 8.8 base curves and parameters ranging from -0.50 to -6.00 however will continue to be available.
The final wave of Acuvue discontinuation will take place on December. 31, 2013. All parameters of Acuvue Bifocal and Acuvue 2 Colours will be discontinued.
With this move, Vistakon is encouraging eye doctors and eyecare professionals to upgrade patients from older lenses to "more popular and innovative brands" such as Acuvue Oasys, 1-Day Acuvue Moist and 1-Day Acuvue TruEye contact lenses. "These brands are better poised to help make patients happy about the contact lenses they wear, and the doctor who fits them," Brown said.
Today CLEcontactLenses.com reminded everyone about the upcoming Acuvue discontinuation on their latest blog post. Their message was clear "If you are a contact lens user of any of the following brands, base curves or parameters, again we urge you to schedule an appointment with your optometrist so that you can discuss your replacement contact lens options prior to July 1st so that you will have ample time to try all of your different options before the first wave of discontinuation occurs."
According to CLEContactLenses.com some of their patients that use the mentioned Acuvue products were not pleased with this news as they have begun to stock up on their current contact lenses now while they are still being produced. If one finds themself in this same situation, CLEContactLenses.com recommends that they either schedule a visit with their optometrist to begin finding a replacement contact lens or begin to stock up while these products are still being produced.
Those that are not familiar with CLEContactLenses.com, they are a fully licensed and authorized on online vendor that sells a variety of hard and soft contact lenses such as the mentioned Acuvue. The online business also provides contact lens solution, contact lens inserter/remover and other items related to eye care. Along with these great products, they offer a complimentary membership rewards program to all of their registered users. Once a customer of CLEContactLenses.com, one automatically receives 3% off their first purchase. Each purchase after the initial order the savings increases by 1% each time.
It is reported that 38 million Americans wear contact lenses. All of whom, can confirm that the cost of contact lenses within a year span, is not cheap. The membership program that CLEContactLenses.com is offering, should not to be over looked as the savings add up throughout the year.
Now with this valuable information added, one can clearly see that the complimentary membership program that CLEContactLenses.com is offering is one to be had especially if someone plans on stocking up on the soon to be discontinued products.
CLEContactLenses.com is based out of Westchester County, NY and has offices in Manhattan and Mahwah NJ. CLEContactLenses.com has been in business online for the last 15 years selling contact lenses, contact lens removers, eye vitamins, contact solution and all things eye care related.