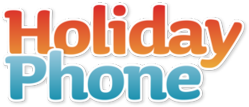 "This is an exciting partnership with HolidayPhone and a money-saving travel solution offer that our customers can pass along to their travelers." - Allison Solomon, Head of Advertisin Strategy and Operations at Travelport
Stockholm (PRWEB) March 27, 2013
HolidayPhone announced today that they have entered into a cooperation agreement with Travelport in offering international travelers roaming free mobile Internet, voice and text services. These services can save travelers hundreds or even thousands of dollars in mobile call charges while traveling abroad.
As part of this agreement, HolidayPhone will be using the Travelport Viewtrip itinerary solution to promote roaming free mobile Internet, voice and text services for international business and vacation travelers.
"This is an exciting partnership with HolidayPhone and a money-saving travel solution offer that our customers can pass along to their travelers. We are keenly focused on building out offers and opportunities on our ViewTrip itinerary product, and HolidayPhone's services are a great compliment to that," says Allison Solomon, Head of Advertising Strategy and Operations at Travelport.
"We are happy to have such a reliable partner that provides us with this great opportunity to develop our business." says Joacim Boivie, CEO for HolidayPhone. "It's a fact that most travelers today bring their mobile devices to make calls and use their mobile Internet access when abroad. However using mobile Internet when visiting another country can be very expensive because of mobile operator pricing on international roaming. HolidayPhone has solved this problem by creating a user friendly and cost efficient product with services for international travelers and tourists. We are very excited to be able to offer this solution to a global market through our partnership with Travelport."
For more information, visit HolidayPhone.com or contact:
Klas Hoberg, Executive Vice President HolidayPhone, +46 733 105 782,
klas.hoberg@holidayphone.com,
Emelie Fågelstedt, PR contact, emelie.fagelstedt(at)holidayphone(dot)com
Ellen Clark, Senior Communications Manager Travelport, +44 1753 288 405, ellen.clark(at)travelport(dot)com
About Travelport (http://www.travelport.com)
Travelport is a broad-based business services company and a leading provider of critical transaction processing solutions to companies operating in the global travel industry. With a presence in over 170 countries, approximately 3,500 employees and 2011 net revenue of $2.0 billion, Travelport is comprised of the global distribution systems (GDS) business, which includes the Galileo and Worldspan brands and its Airline IT Solutions business. Headquartered in Atlanta, Georgia, Travelport is a privately owned company.
About HolidayPhone
HolidayPhone is a leading solutions provider of roaming free mobile Internet, voice and text services for international travelers. The company operates under the HolidayPhone brand in the Nordic, UK, US and German market. HolidayPhone has 7 e-commerce points of sale in 5 languages and covers 27 popular holiday destination countries globally. The company also operates the PrepaidSimCard.org brand globally. Headquartered in Stockholm, Sweden, HolidayPhone is a privately owned company.