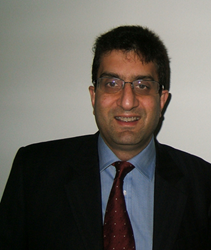 We need a strong lead from government to get fluoridation back on the agenda. The government talks a lot about reducing health inequalities. It needs to show that it is serious
(PRWEB) March 29, 2013
Tariq Drabu, leading Manchester GDC registered dentist and the owner of Langley Dental Practice in Middleton, Manchester has today issued a strong call supporting the fluoridation of public water supplies as part of a dental public health agenda.
His call follows the news that in Wales more than four in 10 children are suffering tooth decay by the age of just five, according to figures released today by the Welsh Government. These worrying figures came to light last week as the Government launched its National Oral Health plan, which aims to tackle dental problems in children. The story can be seen here. Commenting on the findings Tariq Drabu said "tooth decay is a preventable disease and it is a well known fact that getting fluoride in to contact with teeth will have a positive effect on dental health. The best ways of doing this is by Fluoridation of the public water supply."
However he sounded a note of caution since the current major NHS reforms that are due to be implemented next week may well mean that matters such as dental public health will be overlooked. Tariq Drabu said "with the abolition of Primary Care Trusts responsible for local health provision these current NHS reorganisations may lead to moves towards public water fluoridation being missed and in some cases abandoned, leading to a deterioration in the dental health of the population, especially children."
A news story on the BBC News website in 2012 talked about the issue of water fluoridation and why it continues to be a major issue. Tariq Drabu continued, "last year there was confusion surrounding the proposed fluoridation of water in Southampton. In early 2012, the South of England Strategic Health Authority, which is due to be abolished in April 2013, insisted that fluoridation was due to go ahead in Southampton. However, from April 2013 the decision for fluoridation was to be passed to the local council. The council itself has already voted against the measure. The current understanding is that now, in a move that makes matters even more confusing, Southampton city council will await the outcome of a government consultation before deciding if they will consult residents on whether the fluoridation scheme should go ahead or be stopped." The story can be seen here.
Tariq Drabu commented on the confusion and ambiguity by saying "If the Southampton situation is reproduced all over the country where nobody knows what is going on then we are heading for a complete and utter mess. The current state of affairs is ambiguous, uncertain and muddled and it must be reviewed."
Tariq Drabu who has owned Langley Dental Practice since 1998, was outspoken in his support for water fluoridation as an effective public health measure. He said, "We practice here in North Manchester, which is an area of high social deprivation and poor dental health. In terms of tooth decay levels, our local health trusts are in the bottom 20 out of all 300 health trusts in the whole country. Figures from the Department of Health show that areas like ours have children's tooth decay rates that are eight times worse than the best areas in the country. Therefore we need prompt and proactive public health measures such as water fluoridation in order to improve the dental health of the population, especially children. A comparable area like South Birmingham, which is in the bottom third for social deprivation but which has fluoride in the water, is in the top third of areas with the lowest levels of tooth decay. So, when we compare like for like we can see that fluoride does work."
Tariq Drabu went on to say "back in 2010 after the election the Coalition government in its flagship "Programme for Government" document said not only that it would introduce a new NHS dentistry contract but more importantly it talked about an additional focus on the oral health of schoolchildren. The new contract is making ground but the dental public health of children is falling by the wayside and the confusion surrounding fluoridation will only make matters worse."
Tariq Drabu who was chairman of Bury and Rochdale Local Dental Committee between 2003 and 2006 urged on the government to take the lead and press ahead with a workable public health agenda that put water fluoridation at the top of dental public health especially for children.
Tariq Drabu concluded by saying "We need a strong lead from government to get fluoridation back on the agenda. The government talks a lot about reducing health inequalities. It needs to show that it is serious. It can show that it is serious by pushing forward with a programme of water Fluoridation."