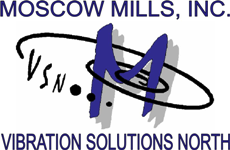 "Balancing new generation jet engine components that have lighter parts that spin faster has become both more technically challenging and more important for the bottom line," said George Allen, vice president
STOWE, VT (PRWEB) March 27, 2013
The Vibration Solutions North (VSN) subsidiary of Moscow Mills, Inc. today announced the opening of a new state-of-the-art rotor balancing facility that delivers vast improvements in the speed and precision of balancing processes for jet engines, power generation turbines, automotive parts, and other complex equipment. VSN's advanced capabilities and leading balancing experts are helping companies streamline maintenance and overhaul processes, streamline manufacturing, and reduce the excessive wear and energy loss that results from unbalanced rotors.
Based on the company's Kin-Dex™ technology, a patent-pending design approach to balance machine tooling, VSN's advanced rotor balancing capabilities include:

Rotor Balancing Services: The state-of-the-art VSN Rotor Balancing facility is equipped to balance any rotor up to 100 inches in diameter and 5,000 pounds to extremely tight tolerances of only a few micro-inches.
Balancing Tooling: VSN designs and manufactures custom balance machine tooling that dramatically reduces the time required to properly balance legacy rotors as well as the new generation of rotors to the extremely tight tolerances specified for jet engines and other precision equipment. Using the Kin-Dex technology, the balancing process time for a jet engine rotor can be significantly reduced in some cases, from several shifts to a single shift or less.
Tooling Evaluation and Repair. VSN balancing experts can diagnose a company's current tooling and processes, and repair or replace the tooling to meet exacting customer requirements.
"Balancing new generation jet engine components that have lighter parts that spin faster has become both more technically challenging and more important for the bottom line," said George Allen, vice president, balancing tooling products and services, Vibration Solutions North. "The performance of a jet engine or power turbine with unbalanced rotors degrades exponentially the faster the parts are designed to spin. By using VSN services and tooling, companies can speed up their balancing processes and avoid the higher operational costs caused by unbalanced rotors."
George Allen, one of the nation's leading experts on balancing and vibration mitigation, is chairman of the SAE Balance Committee EG1-A.
About Moscow Mills, Inc. / Vibration Solutions North (VSN)
Moscow Mills, Inc. is a unique world-class R&D engineering and manufacturing firm, providing mechanical-engineering services, specialized balance tooling and services, and high precision component production for the R&D, prototype, and short-run markets. The company uses state-of-the-art 3D CAD and FEA analysis to prepare complex components and systems for manufacturing. Complex high tolerance prismatic prototypes and components are manufactured using 2-axis, 3-axis, 4-axis, 5-axis and 7-axis CNC equipment. The company is located in Stowe, Vermont, USA. Visit the Moscow Mills website at http://www.moscow-mills.com/ for more information.
About Vibration Solutions North (VSN)
Vibration Solutions North is a wholly owned subsidiary of Moscow Mills, Inc. It meets the high precision rotor balancing needs of the aviation and aerospace, power generation, automotive and other industries from its state-of-the-art VSN Rotor Balancing facility. At the core of VSN approach to rotor balancing is the Kin-Dex technology. VSN is a Pratt & Whitney approved Calibration Source for Balancing Tooling.
About Kin-Dex Technology
Kin-Dex uses patent-pending technology to eliminate the difficulty operators encounter when mounting, dismounting, and remounting components on a balancing machine. Kin-Dex uses kinematic mounting concepts that index and locate parts on a fixture or tooling so operators can repeat the exact placement of a rotor in a balancing machine. With Kin-Dex, no time is wasted attempting to repeat a previous balancing test. In addition, Kin-Dex makes it possible to meet extremely tight tolerances of only a few micro inches. For more information on Kin-Dex, click here: http://www.moscow-mills.com/balancer_tool/Kin-dex.html
Contact:
Jim Elder
PR for Moscow Mills, Inc.
Phone: 802-863-3242
Cell: 802-881-9474