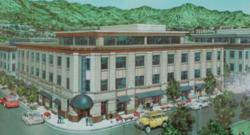 …Temecula is one of the jewels of Southern California...
Temecula CA (PRWEB) March 28, 2013
The Traux Building in Old Town Temecula, California is all framed up with interior construction progressing and completion of the project expected next month. It's a four-story mixed use office building that has utilized EB-5 financing and is expected to create over 500 jobs. The project has 32 investors, with more slated to invest. The Truax Building was a project that Inland Investor Visa Group 8 saw as a good fit for their company. IIVG8 is a limited partnership that helped raise capital for the project from foreign investors through the EB-5 program. Johns says, "We selected that project because of the association with Bernie (Truax) and his relationship with people like Maryann and the rest of the city…Temecula is one of the jewels of Southern California. It shows well."
During a time when overseas investors harbor uncertainty about the EB-5 program and the U.S. economy in general, it's important that local governments support those projects. Edwards credits Johns with exposing investors to Temecula, she says, "They've facilitated those relationships for us. Everybody plays a role in this so our job is to welcome them as quality investors and show them all the advantages they will realize by investing in Temecula."
Johns says it is up to the investor to do their due diligence to make sure the project they are interested in is as safe a risk as possible. And investors must also know that their money is at-risk. Just because you've invested money into a project does not guarantee a green card or even the return of capital. Part of USCIS's EB-5 program statute states that the funds have to be "at risk," and there will be failures, "That's the nature of business around the world," Johns says.
Edwards advises all city officials nationwide to look outside the box when it comes to economic development, she says, "this is the time because the cost of construction is still relatively low… this is the time because investors are out there and they're looking to invest in your community, so I would advise every local government to take a look with fresh eyes and say…'.