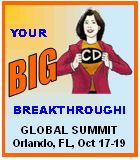 CDI's 2013 Summit breaks the rules by saying no to disconnected virtual learning, boring lectures, stale topics, and traditional educational models, and instead offers a high-energy experience for career coaches and resume writers.
Melbourne, Florida (PRWEB) March 27, 2013
The global association of resume writers and career professionals, Career Directors International (CDI), has taken another look at how the traditional annual conference is formatted and made changes to deepen learning, connections, and return on investment for attendees.
CDI's President, Laura DeCarlo, stated, "We've poll attendees about the traditional conference experience and they tell us they are bored, disconnected, not learning anything new, not being challenged by state-of-the-art forward-thinking programs, and not able to connect their learning when they return to the office. Traditional programs are stale and unwelcoming, and new virtual models strip away any chance of creating those lasting, close relationships or of having that business-changing epiphany in the midst of a rousing after-hours conversation."
So, CDI has done something new for the careers industry – their Global Career Empowerment Summit addresses the needs of the diverse learner, takes into consideration the first-time attendee like never before, creates connections for content and people, and switches up the traditional lecture learning model. CDI has launched a system that will turn a day of sessions into an action-oriented strategy plan for attendees to get involved from the day they register, to cement their learning from top-notch industry experts with a truly different learning approach, and to stay connected with their empowered colleagues long after the in-person event ends. "It's only in that way," DeCarlo states, "that we transform three days into a life-changing experience."
CDI lists below the highlights of what is different about their conference, which are detailed in the attached PDF.
The 2013 Summit program is a bold, break-all-the-rules, high-energy, hands-on, slam-dunk-your-success lineup for resume writers, career professionals, and industry entrepreneurs.
It's also live and face-to-face so attendees can truly get to know their colleagues and build those strong and enduring networks, business connections, and friendships that are a key part of participating in a conference.
This year attendees will further benefit from:

Lead-in structured networking session to break the ice and immediately find those individuals who will be their best connections.
Buddy matching to guide first-time attendees and new members to get the most out of their experience.
Private online discussion group for registrants which allows the conversation to start immediately and never end with networking before, during, and after the Summit.
15 high-energy learning sessions across three days (not breakouts) to give attendees a wealth of relevant and forward-thinking information.
Hands-on exercises and activities in every session to keep attendees on their toes and to truly cement their learning.
Closing activities in each session to create takeaways, action plans, and tools for putting new data to work.
In-depth Q&A sessions at the end of the day to sum up learning and take it to the next level.
Balanced program that delivers the newest and hottest trends in resume writing, career services, and business-building/business management.
Time and location to play – the CDI Summit is always 'right in the middle of the action' and again delivers with a schedule and location that creates a cost-effective and fun-filled vacation.
CDI's innovative focus continues to deliver programs that are years ahead of the competition so that attendees can be ready for 'what's coming next'.
DeCarlo states, "There is simply no event with greater ROI in the industry for career professionals and resume writers. CDI takes its commitment to creating world-class events seriously and spares no expense to provide a value-added experience for attendees."
Industry professionals can learn more about CDI's Summit on their website.
About CDI: Career Directors International – http://www.careerdirectors.com
CDI is a global professional association that is committed to ensuring that career and resume professionals can grow and thrive in a rich, vibrant, exciting, safe, and nurturing environment. CDI is focused on championing the industry's cause for credibility and visibility; fostering exceptional success in every generation of career and resume professionals; and cultivating the career superhero that exists within each one of us.