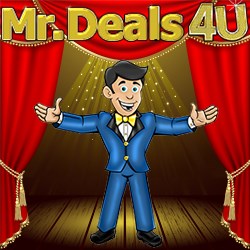 Mr.Deals has created a perfect synergy between two of the most common reasons why people are on the internet; to find great deals and enjoy online games.
Boca Raton, FL (PRWEB) March 28, 2013
Move over Groupon and LivingSocial—Mr. Deals 4 U is now offering daily deals and an online game room to keep visitors entertained, all in one place.
Mr. Deals 4 U, a new daily deals and online game site, invites online game enthusiasts to sign up for free access to more than 300 games, plus a chance to win prizes with their tournaments starting April 7th.
In addition to accessing exclusive daily deals on products from businesses around the world, Mr. Deals 4 U users can take a break in the vast online game room and earn Deal Dollars which can be redeemed for greater discounts on daily deal purchases. Players also have the option to use earned Deal Dollars to enter weekly game 'tournaments' on the Mr. Deals site for a chance to win prizes and more deal credits.
"We know that people love daily online deals to try new products while saving money—and people of all ages are spending increasing time playing online games," said Mr. Deals 4 U President, Phil Tomich. "We're offering the perfect combination where users can access the best of both worlds. Many online games cost money. Ours are free and we offer players real rewards and fun tournaments to take part in."
Mr. Deals 4 U features a wide variety of online games from action and sports games to word and strategy games.
To sign up to play free games online at Mr. Deals 4 U and to see daily deals, check out http://games.mrdeals4u.com/ . Also, be sure to join our Facebook community at https://www.facebook.com/Mr.Deals4U.
About Mr. Deals 4 U:
Mr. Deals is an exciting new way to find great deals, play online video games and earn DEAL DOLLARS to buy daily deals and enter tournaments.
Our mission is to give merchants an opportunity to create brand awareness of their business and products. Mr. Deals offers a fun atmosphere by allowing customers to play games and earn Deal Dollars to use on MrDeals4U.
Mr. Deals allows merchants a place to offer great deals to online gamers. Every day there are 6 deals offered by a variety of merchants with an assortment of deals. Join our Online Video Game Room to earn Deal Dollars that will let you enter into tournaments to win prizes.