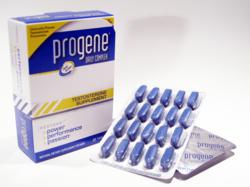 Dr. Nasr-Anaissie reports, "Using saliva, I've actually been able to solve and diagnose cases that traditional blood tests do not pick up. Progene®'s saliva test makes sense for tracking changing hormone levels."
Cincinnati, Ohio (PRWEB) March 29, 2013
Today, the words "low testosterone" are a part of every man's vocabulary.
Top researchers all over the world are confirming what Progene® understood 10 years ago: testosterone levels are an important issue. "For men over 40, low testosterone should be as much of a health concern as heart disease, cancer and stroke," writes Harvard Urologist and Researcher, Dr. Andre T. Guay, who directs the Center for Sexual Function/Endocrinology at the Lahey Clinic in Peabody, MA.U.S. National Library of Medicine.
Testosterone is the naturally occurring sex hormone that controls the development and maintenance of masculine features. Male testosterone levels peak in the teens/early 20's and begin to decline 1-2% every year thereafter.
Realizing this natural decline was being overlooked by conventional medicine, Progene® began offering its natural testosterone solution a decade before today's intensifying interest surrounding low testosterone. With a safe and effective solution that's stood the test of time, Progene® continues to lead the category and is now available at major retailers nationwide.
But to celebrate its 10th Anniversary, Progene® is offering customers $10 off any Progene® product (coupon code below).
Do you know your testosterone levels?
Progene® continues to lead innovation with the introduction of their At-Home Testosterone Test Kit.
Fast, painless, and easy, Progene®'s Test Kit requires only saliva to detect and measure testosterone levels.
The Journal of Clinical Endocrinology states that saliva is "a preferred method of measuring hormonal health." Dr. Lina Nasr-Anaissie agrees. A family practice physician from Little Rock, Arkansas who recently moved to join Cincinnati's University Physicians, Dr. Nasr-Anaissie reports, "Using saliva, I've actually been able to solve and diagnose cases that traditional blood tests do not pick up. Progene®'s saliva test makes sense for tracking changing hormone levels."
Compared to a doctor's office visit, Progene®'s At-Home Test Kit is more convenient and a fraction of the cost. Now, men can easily track how much testosterone they have left then see for themselves what Progene® can do.
http://www.youtube.com/embed/vUdNoDWXJPg
Progene®'s mission 10 years ago remains the same today:
To improve the lives of a generation of men with all-natural solutions to natural problems, while helping to foster a better dialogue with their healthcare providers -- thus increasing men's physical self-awareness.
Take Advantage of our Tenth Anniversary Special $10 Savings on any Progene® product.
Order online at Progene.com.

Enter coupon code: 10anniversary
Discount only applies to purchased product (not applicable for s/h)
Offer expires 4/30/13
About Progene®
Founded in 2003, Progene® continues to lead the market by addressing the decline of testosterone levels in men as they age. With over 20 million tablets sold, Progene®'s dual-action formula of 20 rare herbal extracts and clinically proven testosterone precursors helps to provide men the ingredients they need to produce more testosterone.
Expanding its national distribution with the recent addition of VitaminShoppe and Costco.com, the company continues to grow with the release of their At-Home Testosterone Test Kit. Now men can actually see for themselves what Progene® can do to help restore their Power, Performance & Passion®. Progene® is currently sold nationwide at all GNC Stores, Rite Aid, USADrug, Drugstore, Sears.com, Harris Teeter Groceries, Brookshire's Food & Drug and more than 150 other local and regional retailers.
For more information about Progene® go to Progene.com
PR Contact:
Judith Hokanson
1-800-PROGENE