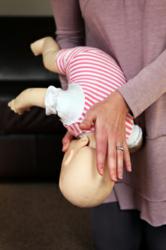 National CPR/AED Week is coming soon - June 1-7, 2013.
Redwood City, CA (PRWEB) March 29, 2013
The week of June 1-7, 2013 has been designated by Congress as National CPR/AED Week. Here are five fun tips to help you celebrate the upcoming event
1. Take the whole family out to learn CPR
Santa Clara County offers many different options for taking an American Heart Association CPR and First-aid certification class. Safety Training Seminars teaches these classes in offices throughout the Bay Area including: San Jose, Concord, Berkeley, Redwood City, San Francisco, and Novato. The class is about five hours long and the training is usually on a Saturday or Sunday so the entire family can take the course together. Children are also welcome to take the course, but they should be over 10 years old in order to compress the chest deep enough while performing compressions.
2. Sign up for the American Heart Association Heart Walk
The American Heart Association has organized a Heart Walk in Redwood City on September 18, 2013. This event will feature a Health Expo, raffle prizes, and rewards to those participants who raised the most money. The Redwood City Heart Walk is designed for adults to choose a healthier and more active life style – one step at a time.
3. Organize a CPR/AED Class at the Worksite
Safety Training Seminars is able to provide these CPR and First-aid certification training courses directly at a company's location. This can be a huge time saver since all the equipment, manikins, and first-aid supplies can be brought in. Classes can be taught during the regular business hours or in the evenings. It is very important that a company's staff be properly training to respond to an emergency in the work site. Learn more about onsite CPR & First-aid training.
4. Buy an AED for the Company
An AED (automated external defibrillator) is a portable, battery-operated device that is able to check a person's heart rhythm and if needed, the AED can deliver an electric shock to the person's heart. Administering an electric shock to the heart may be necessary in order to restore the heart's normal rhythm. The price of AEDs have dropped significantly over the years and now it is possible to purchase one for about $1200.
5. Refresh the Skills of CPR
After taking an American Heart Association BLS or CPR class, students either receive the AHA CPR manual or the eLearning book which can be viewed for up to two years. National CPR Week would be a great time to refresh the skills by reviewing the course material. Or there are many YouTube CPR videos which offer a quick refresher of how to perform CPR properly.
Make a decision on how you want to celebrate National CPR/AED Week – someone's life is counting on you.