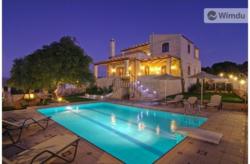 Brits are escaping the elements and heading abroad to spend their precious few days off in the sunshine.
(PRWEB UK) 27 March 2013
London, March 2013: With the upcoming Easter bank holiday set to be a wash out, many Brits are escaping the elements and heading abroad to spend their precious few days off in the sunshine. Social accommodation company, Wimdu.co.uk, offer their top picks of last-minute accommodation in Europe still available to snap up for Easter getaways.
Eleftherna, Greece: http://www.wimdu.co.uk/offers/6VQM1R4H
Cocooned on a quiet lane in the village of Eleftherna in southern Greece, this superb pool-side villa is a rural hideaway sleeping up to 10 people for just £274 per night. Stone-built in traditional style and set in an area of magnificent natural beauty this is more of a country cottage than a holiday villa and is perfect for family retreats. Built on the highest spot of the village, it offers breath taking views of the Cretan Sea and Mt. Psiloritis. The weekend, temperatures are set to hit a balmy 21˚C.
Istanbul, Turkey: http://www.wimdu.co.uk/offers/BFTIJT6Q
Those looking to immerse themselves in culture and enjoy a warm 19˚C this Easter should head to Istanbul. For £183 per night three people can explore this historic city from a stunning apartment in the heart of Cihangir, the buzzing bohemian quarter of Istanbul. The narrow tree lined streets of Cihangir are teeming with chic boutiques, antique shops and art galleries. It is also walking distance from Taksim Square, the city's hub and a short tram ride from the mosques and bazaars of the Sultanahmet quarter.
Rome, Italy: http://www.wimdu.co.uk/offers/5ZPNZ0A9
Soak up the excitement of the new Pope's first Easter with a trip to Rome this bank holiday. In a city bustling with excitement, this apartment offers six people the chance to engross themselves in the atmosphere for just £141 per night. The traditionally styled property is located in the heart of the Trastevere area, rich with restaurants, markets, bars, shops, attractions and close to Campo de' Fiori and Piazza Navona.
Lisbon, Portugal: http://www.wimdu.co.uk/offers/ACTFAPKE
This Lisbon apartment is perfect for activity seekers. Located near the famous Santos Design District, which boasts some of the best shops, restaurants and clubs of Lisbon, this modern apartment comfortably sleeps four people for £120 per night. Need a cultural fix? Head along the river to the Tower of Belem, Jeronimos Monastery and the Museum of Ancient Art which are bound to be bustling this bank holiday.
Barcelona, Spain: http://www.wimdu.co.uk/offers/31W44AXI
With predicted temperatures averaging 20˚C, Barcelona is the destination of choice for Easter sunshine. The city will be alive with celebrations this bank holiday as locals enjoy Semana Santa, translated as Holy Week, with grand processions taking place from the famous cathedrals of Barcelona. Located in the Gracia area of Barcelona, this six person apartment is a bargain for families looking to soak up the cultural extravagance, at just £104 per night.
Press contact:
Charlotte Ryder
Charlotte.ryder(at)diffusionpr(dot)com
0207 291 0241
About Wimdu
Wimdu is a social accommodation community that brings together travellers and hosts from around the world to enable consumers worldwide to travel like a local. Wimdu enables hosts to generate additional income on their spare rooms, while guests can search for a room and a rate that suits them. The site lists a range of over 150,000 properties internationally across over 100 countries with everything from bolt holes in Berlin to English castles. Wimdu was founded in 2011 by serial entrepreneurs Hinrich Dreiling and Arne Bleckwenn who wanted to harness social media to transform the way consumers are travelling worldwide.