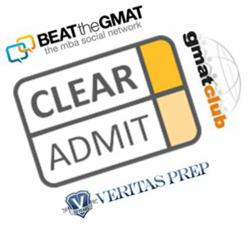 The trick to being a successful GMAT test taker is the same as what it takes for anyone to prepare for a marathon. Just do a little each day…it's especially critical not to skip a day. Performance really does build upon the previous day's work
Philadelphia, PA (PRWEB) March 27, 2013
Standardized tests are a necessary evil in the process of applying to the majority of colleges and graduate programs in the United States. They help admissions committees create benchmarks for their academic expectations, and further assist them when evaluating countless applicants' profiles. In the world of business school admissions, there is no test quite as ubiquitous or important than the GMAT. This, in turn, can cause anxiety, panic or frustration for those studying for or taking the exam. This week Clear Admit conducted exclusive interviews about the GMAT with Eric Bahn, founder of Beat The GMAT; BB, founder of the GMAT Club; and Brian Galvin, Director of Academic Programs at Veritas Prep. The resulting article is a treasure trove of facts and perspectives that any individual considering the exam will find invaluable.
In addition to scoring highly on their own GMAT exams, Bahn and BB also founded two respectively thriving and vibrant GMAT communities. Each gives individuals setting their sights on the GMAT a place to gather online to exchange study tips, commiserate when feeling low and celebrate when earning ultimately successful exam results. Galvin also did quite well on the exam and has over ten years of experience tutoring and coaching others through his work at Veritas Prep.
Each expert shares what helped them earn the score they needed to be competitive at top MBA programs and what they have observed through their continued connections to the exam. Over the course of their respective interviews, all three responded to queries about creating a study plan, offered advice on overcoming test day nerves, and shared their observations of applicant reaction to the new Integrated Reasoning section.
A Look Inside:
1. Bahn says the "trick to being a successful GMAT test taker is the same as what it takes for anyone to prepare for a marathon. Just do a little each day…it's especially critical not to skip a day. Performance really does build upon the previous day's work."
2. BB notes how his own experience as a non-native English speaker influenced his decision to read more fiction in English to prepare for the verbal section of the GMAT: "I found that reading also trains your "ear" and helps with Sentence Correction. More and more I was able to pick out the issue with the sentence simply because it did not sound right and not because I ran through my 13 point check-list for CR questions. Eventually I scored 42 on verbal - back then it was 96th percentile, not too shabby for a foreigner."
3. Further insights include Galvin sharing the Veritas perspective that studying the exam is as much about knowing the material as it is understanding the people who create it, stressing the importance of critical reasoning and a familiarity with the language and patterns of the actual test questions.
Other topics that these seasoned experts shared include: specific advice on how to approach the quant section, debunking common misconceptions about the test, and gauging whether retaking the exam will help or hinder an applicant.
***
About Clear Admit:
Clear Admit is an authority on the business school admissions process and a leading publisher of MBA admissions guides. Founded by Wharton MBA graduates with extensive admissions experience, the firm has been featured in dozens of publications including Bloomberg BusinessWeek, The Wall Street Journal and The Economist. Clear Admit also provides admissions consulting services to business school applicants using a highly personalized methodology that combines the perspectives of MBA admissions officers, expert editors and MBA students to help maximize prospective applicants' chances for acceptance at top schools.