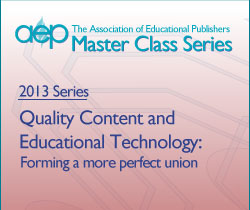 Wilmington, DE (PRWEB) March 28, 2013
As part of its new Master Class Series, The Association of Educational Publishers (AEP) is bringing quality content to the center of the discussion about digital learning tools and their roles in K-12 education. A half-day workshop, The Valuable Connection Between Quality Content and Technology, is the second course in the 2013 Series and is scheduled for April 18 on Stanford University's campus in Palo Alto, CA.
Sessions at the workshop will explore the process of determining the best content for digital learning tools, considerations towards student and educator expectations, and the needs of various media options. Mark Schlichting, Children's Design Specialist who is CCO at Wanderful - Interactive Storybooks and also CEO of NoodleWorks Interactive, will discuss the product development process and the importance of making quality content a priority.
All instructional technologists and professionals from across the ed tech industry are invited to attend. The event will conclude with a networking reception. Advance registration is required and the deadline to register for this event is April 9, 2013. The cost is $99 for AEP members and $159 for nonmembers.
About the Master Class Series
The Master Class Series was developed to provide continuing education opportunities for professionals across the learning resource industry. Each year, the course schedule will revolve around a specific issue. The 2013 series, Quality Content and Educational Technology: Forming a More Perfect Union, will explore how technology and content can work together to ultimately benefit students and teachers. Featuring webinars and onsite events, the series is appropriate for content developers, editors, IT experts, assessment specialists, and marketing/communication professionals.
The 2013 courses will explore topics such as content choices for various digital tools, privacy laws, production strategies, and business models. Attendees will also gain a greater understanding of the key players such as the end-users, the decision-makers, the upstarts, and the creators of free content.
About AEP
The only professional organization that serves the diverse needs of the entire educational resource community, the Association of Educational Publishers (AEP) encourages and advocates for professional, quality content for teaching and learning. Founded in 1895, AEP now helps its members navigate the global realities of educational publishing in the 21st century.
AEP is at the forefront of the educational publishing industry, taking a leading role in efforts such as the Learning Resource Metadata Initiative (LRMI), which is changing the way educational materials are found on the Internet; Innovation Through Inclusion, promoting industry-wide diversity; and representation of educational publishers on matters such as new legislation and funding. Through its events, publications and recognition programs, AEP works to inform and advance the industry and to define and applaud excellence in the field. For more information, please visit http://www.AEPweb.org.