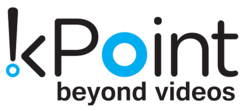 We believe this competitive selection validates demand for agile content creation, distribution with built in interaction and analytics
Chicago, IL (PRWEB) March 28, 2013
kPoint Technologies, a leader in video platform for multimedia content, today announced that it has been named as a finalist for the 2013 Software and Information Industry Association's CODiE Awards in the "Best Video Tool" category. The SIIA CODiE Awards are the premier award in software and information industries, and have been recognizing product excellence for 27 years. The awards have over 75 categories (27 software) including twelve new and updated categories that reflect the continued growth and evolution of cloud computing, mobile, big data and video. The categories are organized by industry focus of Content, Education and Software. The full list of 2013 finalists is available at: http://siia.net/codies/2013/finalists.asp.
"The selection of kPoint as a finalist is particularly gratifying for both the kPoint team and our growing list of clients" said Sunil Gaitonde, CEO of kPoint. "The kPoint video platform was created to address unmet needs of our clients by blending textual information and video easily in a social learning context," Dr. Gaitonde added. "We believe this competitive selection validates demand for agile content creation, distribution with built-in interactivity and analytics."
"The CODiE Awards competition was extremely competitive this year, and all of the finalists should be commended for their innovative products and services," said Rhianna Collier, VP for the Software Division at SIIA. "We look forward to honoring the winners at our awards program in May at All About the Cloud."
About SIIA
SIIA is the leading association representing the software and digital content industries. SIIA represents approximately 700 member companies worldwide that develop software and digital information content. Information technology (IT) and software security are critical issues to SIIA's members, many of whom strive to develop safe, secure and state-of the-art products that effectively serve their commercial and government customers alike, while protecting their intellectual property.
The SIIA Software Division provides a forum for companies developing the applications, services, infrastructure and tools that are driving the software and services industry forward.
About kPoint
kPoint is an on-demand video platform tool for enterprises & consumers that is secure, scalable and places premium on user engagement. Using patent pending systems and features like rapid video creation, multimedia mashup, engaging viewing experience, insightful analytics and search within a video, kPoint delivers value by reducing cost and improving productivity. kPoint has growing list of over 25,000 users and has several dozen customers.
kPoint has offices in Chicago, IL and Pune, India. For more information, please visit http://www.kpoint.com.