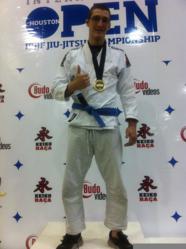 (PRWEB) March 27, 2013
This weekend, Joey Ruggerio of Third Law won gold at the 2013 Pan American Championships. The event is hosted by the International Brazilian Jiu-Jitsu Federation (IBJJF) in Irvine, California.
The Pan Jiu-Jitsu Championship is the second in a series of what are considered the four most prestigious competitions in the world of Brazilian Jiu-Jitsu. The Pan Jiu-Jitsu Championship which is run by the International Brazilian Jiu-Jitsu Federation (IBJJF), is known for attracting some of the toughest competition in Brazilian Jiu-Jitsu. Third Law Medal Chaser, Joey Ruggerio, started off the year by taking second place at the European Open. He added another milestone to his resume for the year by this time claiming gold in his weight class and bronze in the open division.
The most impressive part of Joey winning the Pan American Championship is the fact that he was forced to avenge a loss against his opponent who had previously defeated him at the European Open. During the match Joey was able to capitalize on opportunities and get to his dominate positions, which in the end sealed the deal for him to take the gold. Later on he squared off in the open division where he was able to take bronze.
Joey Ruggerio will continue his intense training regiment before competing at the end of May in hopes of becoming a World Champion. Joey Ruggerio trains out of Third Law Brazilian Jiu-Jitsu, a mixed martial arts gym located in Naples, Florida. For more information visit the site at http://www.teamthirdlaw.com or call 239-628-3LAW(3529).