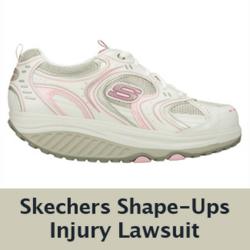 Free individual Skechers Shape-Up injury lawsuit case evaluations are available through yourlegalhelp.com, or call 1-800-399-0795.
Columbus, OH (PRWEB) March 29, 2013
Wright & Schulte LLC, an experienced product liability law firm and Ohio personal injury law firm representing hundreds of clients in Skechers Shape-Up injury lawsuits, is pleased to announce that Richard W. Schulte, a partner with the firm, has been appointed to the Plaintiffs' Steering Committee in the Skechers Shape-Ups Toning Shoe Litigation underway in California Superior Court, Los Angeles County. Mr. Schulte was appointed to the Committee by the Honorable Elihu M. Berle in an Order dated March 12, 2013.  As a member of the Plaintiffs' Steering Committee, Mr. Schulte will assist in the prosecution of cases where Plaintiffs claim injury as the result of wearing Sketcher Shape-Ups.  Several hundred Skechers Shape-Ups lawsuits have been filed in the California litigation so far, and it is anticipated that several thousand will ultimately be filed in the proceeding. (Bartek et al v Skechers BC476903)
Mr. Schulte is also serving on the Plaintiffs' Steering Committee for hundreds of additional Skechers injury lawsuit s pending in a multidistrict litigation underway in U.S. District Court, Western District of Kentucky. On January 28, 2013, Wright & Schulte filed more than 100 Skechers Shape-Ups lawsuits in the federal litigation. (In Re: Skechers Toning Shoes Products Liability Litigation – MDL 2308)
Skechers Shape-Ups Injury Lawsuits
Skechers Shape-Ups were brought to market in 2009, and heavily marketed via ads that featured celebrity endorsers, including Kim Kardashian. Among other things, advertising for the toning shoes promised Skechers Shape-Ups would enable the wearer to "Shape Up While You Walk," and "Get in Shape without Setting Foot in a Gym." In 2010, a study conducted by the American Council on Exercise (ACE) raised serious questions about the efficacy and safety of toning shoes like Skechers Shape-Ups. By 2011, Consumer Reports had revealed that Skechers Shape-Ups and similar shoes had been the subject of more injury complaints than any other product in its database.
[[http://news.consumerreports.org/health/2011/05/as-sales-of-toning-shoes-mount-so-do-injuries.html
Skechers injury lawsuits pending in both the California and federal litigations allege that Skechers Shape-Ups' "rocker bottom" sole alter the wearer's gait, causing severe lateral instability that can result in serious injuries including stress fractures, joint injuries, tendon and ligament injuries, and acute injuries from falling. The plaintiffs further allege that Skechers promoted its toning shoes as having multiple health benefits compared to ordinary athletic shoes while knowing the shoes do not confer those benefits and failing to warn of the shoes' serious additional risks.
In May 2012, the manufacturer of Skechers Shape-Ups agreed to pay $40 million to settle charges with the Federal Trade Commission (FTC) that it had made unfounded claims that Shape-Ups would help people lose weight, and strengthen and tone their buttocks, legs and abdominal muscles. While the settlement provided consumers with refunds for the purchase of their shoes, it did not include compensation for injuries allegedly caused by Skechers Shape-Ups.
[http://www.ftc.gov/opa/2012/05/consumerrefund.shtm
View: Skechers Lawsuits Continue to Rise Even after $40 Million Settlement with FTC, Wright & Schulte LLC Reports
Wright & Schulte LLC continues to offer free Skechers injury lawsuit consultations to anyone who suffered a serious injury while using Skechers Shape-Ups, including broken ankles, hip and wrist fractures, tendon and ligament damage, and head and spinal cord injuries. For more information on filing a Skechers Shape-Ups injury lawsuit, or to arrange for a free legal consultation, please visit yourlegalhelp.com, or call 1-800-399-0795.
About Wright & Schulte LLC Wright & Schulte LLC, an experienced personal injury firm, is dedicated to the belief that America's legal system should work for the people. Every day, the attorneys of Wright & Schulte LLC stand up for the rights of people who have been injured or wronged by defective drugs and their side effects, complications from defective medical devices, and unsafe consumer products, and fight tirelessly to ensure that even the world's most powerful corporations take responsibility for their actions. If you're looking for a law firm that will guarantee the aggressive and personal representation you deserve, please do not hesitate to contact Wright & Schulte LLC today. Free individual Skechers Shape-Up injury lawsuit case evaluations are available through yourlegalhelp.com, or call 1-800-399-0795.
Wright & Schulte LLC
812 East National Road, Suite A
Vandalia, Ohio 45377
Toll-Free Telephone: 1-800-399-0795
Telephone: (937) 435-7500
Fax: (937) 435-7511