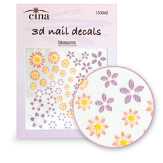 Recently our customers on Facebook flagged up how much they love our range of nail art decals and identified Gelish hand & nail honey girl as a firm favourite amongst their own customers
(PRWEB) March 29, 2013
eNail Supply is the popular online retailer who supply customers and beauty professionals with top brands in hand, feet and nail products. Recently the company have been receiving high praise and countless top reviews from happy customers via their Social Media networking sites. The management team use their social media platforms as a way to gauge customer satisfaction and as a means of identifying the leading and favourite beauty brands.
In recent months, the company have identified brands like Gelish Hand & Nail Honey Girl, Rejuvacote, Nailtiques and their large range of colorful nail art decals as top sellers and firm favorites amongst their customers.
They also use their social media platforms, especially Twitter and Facebook as a powerful method of letting their customers know about new offers, discounts and promotions with specific ranges. The company does not only serve beauty professionals around the world. The team is made up of beauty professionals so the positive communication between eNail Supply and their customers is two-way.
Their social media managers offer advice and let followers know about new trends and developments in the beauty world. Their customers respond by giving them feedback on particular products and their services in general. It is a powerful way to monitor how the company is regarded and to promote itself.
CEO of eNail Supply, S Arya said, "Recently our customers on Facebook flagged up how much they love our range of nail art decals and identified Gelish hand & nail honey girl as a firm favourite amongst their own customers. We use our social media as a means of really getting to know our customers. Because of the reviews and praise we have been receiving recently we have known exactly which brands to offer at discount and it has helped us to make sure we have plentiful supplies of the right products."
The company plan to implement further ways to engage their customers on their social media platforms, including new beauty advice tips, star rated customer product reviews and they are considering the possibility of special offers or competitions. Two brands that they are considering offering at reduced prices are Nailtiques and Rejuvacote which are increasingly in popularity at the moment.
eNail Supply plan to increase their following, particularly in Facebook and are hoping that it will prove to be a fruitful way to spread the word about their services amongst beauty enthusiasts.
About us
eNail Supply supplies professional and salon-quality beauty products for the hands, feet and nails. It stocks a huge rand of brands including Gelish Hand & Nail Honey Girl, nail art decals, Rejuvacote and Nailtiques, for shipping worldwide. eNail Supply supplies to licensed nail technician, aesthetician, depilatory professionals and beauty consultants as well as regular shoppers. It offers worldwide delivery and complimentary help and advice from a team of qualified technicians. Detailed information about discounted products can be found on the website.