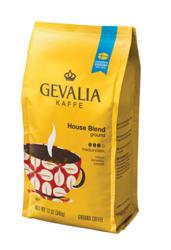 Glenview, Ill. (PRWEB) March 26, 2013
Today, Gevalia is asking coffee lovers to raise their mugs to celebrate an exciting announcement: More coffee drinkers prefer the taste of Gevalia House Blend bag coffee over the taste of Starbucks House Blend bag coffee.
The results of a national taste test* conducted by an independent third party show that nearly 60 percent (59.7 percent) of coffee drinkers preferred the taste of Gevalia House Blend over the taste of Starbucks House Blend. Only 34 percent of participants preferred the taste of Starbucks House Blend while 6.3 percent showed no taste preference.
For serious coffee lovers, taste is one of the most critically important factors when choosing a premium coffee brand. And premium taste does not need to be sacrificed when brewing at home.
"Consumer research has shown that coffee drinkers point to taste as a key consideration when purchasing premium coffee," said Greg Guidotti, Senior Director of Premium Coffee and e-Commerce. "We are confident we have a better tasting House Blend coffee than the top-selling brand, which this independent taste test has now confirmed."
Powerful Swedish Heritage
Gevalia Kaffe has been refining the art of luxurious coffee since 1853, when founder Victor Theodor Engwall began importing and roasting the world's finest beans in the seaside town of Gävle, Sweden. Today, Gevalia brings unexpected Swedish-style luxury taste to grocery aisles nationwide.
The brand is promoting the taste test results with an integrated marketing campaign which invites coffee drinkers to experience the luxurious and rich, yet incredibly smooth taste of Gevalia for themselves. Campaign elements include television, print and online advertising as well as sponsored house parties which give consumers an opportunity to try Gevalia House Blend in their own home among friends and family.
Taste Importance
The results of the taste test made Gevalia want to understand more about coffee drinkers' loyalty to taste when choosing a brew. A national survey** showed exactly how serious coffee lovers are when it comes to a coffee they prefer.

Look Good or Taste Good?: Nearly two-thirds of coffee drinkers would recommend their favorite coffee brand to family and friends (64 percent), while only 29 percent would recommend their favorite hair stylist.
Brand Loyalty: Forty percent of coffee drinkers have driven to another store in search of their favorite brand.
Worse Than Work?: Few things are worse than getting stuck late at work, but nearly four out of 10 coffee drinkers (39 percent) would rather stay late at the office than hand over their cup of coffee.
Coffee drinkers who have not yet tried Gevalia should taste the difference for themselves.
Gevalia is available in U.S. supermarkets nationwide or online at Gevalia.com.
Fans can also connect with Gevalia on Facebook (http://www.facebook.com/GevaliaCoffee) and follow @Gevalia on Twitter (http://www.twitter.com/Gevalia). To learn more about the campaign including the survey results and to view the Gevalia ads, visit PreferGevalia.com.
ABOUT GEVALIA
Gevalia is an exquisitely smooth yet rich coffee experience that has been perfected by Swedes since 1853. From traditional to flavored, the Gevalia brand offers more than 50 varieties of premium coffee and 20 choices of tea, each delivering a unique taste experience. Gevalia coffee is made from the finest Arabica beans containing rich flavors that offer an unparalleled coffee experience. Previously available online only, Gevalia now offers its top ten varieties in U.S. coffee aisles nationwide.
ABOUT KRAFT FOODS GROUP
Kraft Foods Group, Inc. (NASDAQ: KRFT) is North America's fourth largest consumer packaged food and beverage company, with revenues of approximately $18 billion in 2012. Launched as a public and independent company on Oct. 1, 2012, the new Kraft has the spirit of a startup and the soul of a powerhouse. The company has an unrivaled portfolio of products in the beverages, cheese, refrigerated meals and grocery categories. Its iconic brands include Kraft, Maxwell House, Oscar Mayer, Planters and JELL-O. Kraft's 25,000 employees in the U.S. and Canada have a passion for making the foods and beverages people love. Kraft Foods Group is a member of the Standard & Poor's 500 index. For more information, visit http://www.kraft.com and http://www.facebook.com/kraft.
The taste test was conducted in 30 national markets among approximately 300 randomly selected male and female adult coffee drinkers, 18 years of age or older. Qualified participants drank at least one cup of caffeinated coffee that had been prepared at home in the past seven days. Products were presented to participants unbranded and the order of trial was rotated to minimize position bias.
** The telephone survey of 510 adult coffee drinkers was fielded March 12-15, 2013 by Braun Research and has a margin of error of +/- 4.4%. Coffee drinkers are defined as those who report drinking four or more cups of coffee per week.