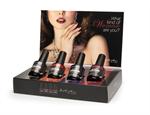 Our customers are the corner stone of our business. We are successful because we listen to them, supply them with the beauty brands the need and desire and because we look after them
(PRWEB) March 30, 2013
eNail Supply is a top-rated online retailer of branded beauty products for hands, feet and nails. Early this week, they announced they will be applying significant discounts to a wide range of their most popular beauty products.
eNail Supply are a leading online supplier of beauty products for hands, feet and nails. They supply top beauty brands to customers from all over the world. Earlier this week, the company announced they will be applying generous discounts to a wide selection of their top-selling beauty brands. Their announcement comes directly after a recent stock expansion and is the company's way of thanking their customers for their continued loyalty.
CEO of eNail Supply, S Arya said, "Our customers are the corner stone of our business. We are successful because we listen to them, supply them with the beauty brands the need and desire and because we look after them. We are applying discounts to our range of Artistic Nail Design products which will include discounted Artistic Nail Design soak of color gloss, finger nail decals and a wide selection of other Artistic Nail Design products. I look forward to hearing reports from our Customer Services team as to what our customers think of these additional discounts!"
Mr Arya also told us how he and his management team make these decisions. Not only do they closely monitor sales reports. They pay close attention to feedback received directly from their customers. Last month their sales figures showed Artistic Nail Design products were the fastest seller.
S Arya went said, "I'm looking forward to seeing how these discounts affect sales in the coming weeks. We know many of our professional customers are stocking up for the busy summer season so we expect there will be a rush on the Artistic Nail Design products and the finger nail decals. These additional discounts will save them even more money."
eNail Supply also recently underwent some expansions to their beauty range. Sales were to high they had to cope with their supplies of Artistic Nail Design soak off color gel running very low. The company hopes these discounts will continue to position them as a favourite supplier amongst beauty enthusiasts and professionals alike.
The company work very hard to ensure their customers' needs are met and that they are rewarded. It is clear that this Customer Facing strategy is working for eNail Supply. The management team confirmed that they have every intention of continuing to keep their focus on doing the best they can for their customers. They regard this as the best way to maintain high sales and their own high regard amongst their followers and clientele.
About us
eNail Supply supplies professional and salon-quality beauty products for the hands, feet and nails. It stocks nail beauty brands including Artistic nail design soak off color gloss, finger nail decals and artistic nail design products, and a massive Nail art design range. All from the popular online store, and then shipped worldwide. eNail Supply provide nail supplies online to licensed nail technician, aesthetician, depilatory professionals and beauty consultants as well as regular shoppers. It offers worldwide delivery and complimentary help and advice from a team of qualified technicians. Detailed information about discounted products can be found on the website.