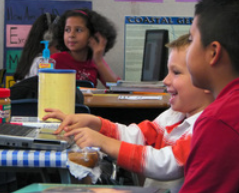 The key to the website is motivation.
Toronto, ON (PRWEB) March 28, 2013
Imagine a room full of kids yelling at their computers and each other while they play games. Now imaging they're playing games that improve their thinking power--and loving it. Now you've got an impression of the Thinking Skills Club, an after school initiative by Toronto parent, Mitch Moldofsky.
"There's a lot of research about how ordinary computer games can improve cognitive skill sets," says Moldofsky, a graduate of the University of Toronto's Cognitive Science program. The website contains links to some of this research, and explains why each game was chosen. Games in which the player has to help a character achieve a goal, for instance, have been shown to improve prosocial behavior, and games that improve digit span (the ability to keep and retrieve short lists of items from memory) have been shown to improve working memory. "I've just collected a number of these games onto a website where anyone can access them."
The key to the website is motivation, says Moldofsky. As kids beat games on the site they earn pieces of a six part brain puzzle, reflecting the six different areas of the site. Winning the pieces keeps them moving around the site to try games they might not otherwise discover. "Without a reason to try new games, kids will just play to their strengths," explains Moldofsky.
A new game has recently been added to the Thinking Skills Club website. Spin Blaster is a game where a central sphere defends itself against attacks from different colored shapes that come at it from all sides. Moldofsky says the game was selected based on research showing that spatial attention skills, or the ability to track relationships in space, is closely tied to advanced math skills such as geometry and problem solving. Kids can sharpen these skills with the non-violent game, hopefully improving their ability to do math. "The original research was done using violent games," says Moldofsky, "but other research shows those games have negative effects. Part of the challenge was finding games grade-schoolers could play that are socially acceptable."