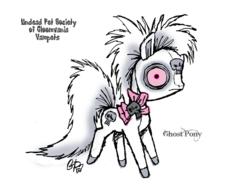 (PRWEB) March 28, 2013
You have probably never heard of Gayle Middleton, but chances are good that your daughter or niece or granddaughter owns one of the many toys she's designed. Or perhaps you've seen tabloid photos of Lady Gaga wearing some of Gayle's ponies as a necklace. She is the "secret weapon" responsible for designing the world- look of Hasbro's billion dollar toy brands "My Little Pony" and "Littlest Pet Shop."
She has also contributed her creative talents to legends like Gene Roddenberry (Star Trek), Charles Schulz (Snoopy) and Steven Spielberg (ET). But will fans fall in love with her latest creation, a line of strange babies with names like Howliss, Lily Rose Shadowlyn and Mortis Van Kilt-III?
"I've been secretly drawing these characters for years," said Middleton, "mainly because I love the whole world and story line behind them. But I've never shown them to anybody."
Until now.
Middleton recently launched a Kickstarter campaign to showcase her new line of dolls, called "Vamplets," which hail from the gothic-victorian themed world of Gloomvania. They are a collection of unconventionally cute babies that include a pedigreed Vampire Kitten, mysterious Ghost Pony, a ferociously fuzzy Werewolf Baby...and more!
Fans can click here and meet each of her bundles of misery up close http://kck.st/YcuT41
For more information about Vamplets, or to request an interview with Gayle please contact Jaryl LaMorte at 727-776-1194 or email gotblood(at)vamplets(dot)com.