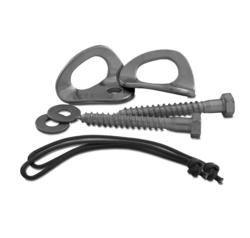 We didn't want our customers feeling they were weather-dependent when planning their next hang.
Asheville, NC (PRWEB) March 28, 2013
Eagles Nest Outfitters (ENO), the leading producer of parachute hammocks and adventure travel accessories for nomadic comfort, is bringing backyard and backcountry relaxation in from the cold with their Hammock Hanging Kit.
No longer dependent on trees or cooperating weather, the Hammock Hanging Kit is the first product from the company that allows users to safely experience hammock nirvana inside their homes, providing a quick and sturdy anchor for any room, porch, patio or garage.
"As our outdoor line expands, we were seeing more of a need to bring hammocking indoors," said ENO Co-Owner and President Peter Pinholster. "We didn't want our customers feeling they were weather-dependent when planning their next hang."
The kit, that includes zinc-plated steel anchor bolt hangers, lag screws, washers and nylon cord, attaches to any secure structure and requires little DIY experience. Not only is it the first of its kind in ENO's line, but it also satisfies a hole for indoor hammocking products across the outdoor market.
"We have received dozens of pictures from customers suspending their hammocks indoors on bed posts, door frames, stairwells, with no official hardware," said Brendan Garvey, head designer at ENO. "The Hammock Hanging Kit is our answer to provide a safe and secure hanging platform, allowing users to let their creativity flow even when they're in from the outdoors."
An alternative to ENO's removable, tree-friendly hammock suspension options – the SlapStrap, SlapStrapPro and Atlas – the newest member to their suspension family is a more permanent option, requiring a drill and wrench for set up and is not intended for use on trees. Instead, weighing only 6 oz and measuring just a few inches, the anchor bolt/screw/cord combination is a non-invasive addition to any wall or post that opens the doors to non-traditional hammocking.
It comes with a detailed installation guide, accommodates up to 400lbs of weigh and is compatible with any ENO Hammock and most camping hammocks.
About Eno
Eagles Nest Outfitters, the brain child of brothers Peter and Paul Pinholster, was founded in the summer of 1999. Growing steadily from a two-man, one-van operation, to the leading provider of ingeniously crafted parachute hammocks and outdoor accessories, the company offers the highest quality relaxation products for adventure travelers an outdoors lovers everywhere. The company's products are sold in 750 specialty outdoor and sporting goods retailers nationwide and online at http://www.enonation.com.