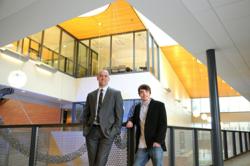 "Many view telecommuting as the only way time-crunched women can care for young children and advance their careers without the pay, privilege or perks that come with being the chief executive of a Fortune 500 company."

- Jessica Guynn, LA Times
Youngstown, Ohio (PRWEB) March 27, 2013
We have all heard the debate, should employees be able to work from home? While both sides of the argument are seemingly valid, a software development firm named Fyrware LLC has been busy perfecting a solution. The ability to work from home has become a luxury for many employees across the globe, but managing remote talent has its inherent issues.
Fyrware's new revolutionary software, Empowr, provides real-time monitoring of remote employees while promoting collaboration with in-house staff. This new tool allows managers to see their entire remote workforce and an individuals "second-to-second" progress for the first time. With Empowr, a remote employee can continue to enjoy the benefits of telecommuting while reporting progress more closely monitored than any traditional employee.
Fyrware's appropriately named software is aimed towards promoting company synergy and empowering employees. Everyone would like to believe they are a hard worker, but how does a remote employee prove worth to their company? With accurate and real-time progress reporting, internal politics and subjective employee reviews go straight out the window. Empowr allows employees and managers to "snapshot" and download all activity at any given time, promoting ethical data liberation. This new innovation is a step into the future of talent management without intruding on employee privacy or the accustomed luxury of a home office.
Chad Q. Brown
Business Strategist, Fyrware LLC
+1 (888) 978-5306
info(at)fyrware(dot)net
http://www.fyrware.net/
ATTN: Chad Q. Brown
Business Strategist
Fyrware, LLC