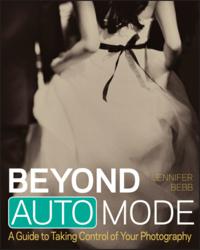 Beyond Auto Mode provides the tools needed to move out of the comfort zone to gain control and take full advantage of everything a dSLR offers.
Indianapolis, IN (PRWEB) March 27, 2013
John Wiley and Sons, Inc., today announced the publication of Beyond Auto Mode: A Guide to Taking Control of Your Photography (Wiley, 978-1-118-17287-2, March 2013, US $29.99), the definitive guide that equips new and less experienced dSLR users with the knowledge and skills needed to take the next step toward creative control of their photography. Professional photographer and educator, Jennifer Bebb walks readers through every camera setting and mode, and shares the skills necessary to create truly remarkable and memorable images.
Part art and part science, digital photography records and preserves the moments of people's lives. While most dSLR users purchase these expensive and powerful cameras for greater control and flexibility, many users are too intimidated by the complexity of the buttons and settings to move beyond the automatic approach. Using a friendly tone and providing clear and concise technical explanations, Beyond Auto Mode teaches dSLR owners how to take full advantage of the features their sophisticated camera offers. After thoroughly explaining shutter speed, aperture, depth of field, ISO, and basic composition, Bebb offers direction on what each camera mode does and when it should be used. Readers gain the confidence to use the entire feature set. Beyond Auto Mode fully explains how to:

Master the exposure triangle: ISO, aperture and shutter speed
Experiment with each setting and learn what they do
Practice with semi-automatic modes
See how different types of light affect an image
Understand exactly what the user controls and what the camera controls
Explore settings for portraits, landscapes and other common shots
Create the perfect image in the camera, instead of fixing a mediocre image with Photoshop
For any photographer that wants to get the most out of their dSLR, Beyond Auto Mode: A Guide to Taking Control of Your Photography provides the tools needed to move out of the comfort zone to gain control and take full advantage of everything a dSLR offers. The book is now available for purchase online and at retailers nationwide in both print and all e-book formats. For a list of retailers, visit http://www.wiley.com/buy/9781118172872.
About the Author
Jennifer Bebb was named (with husband Steve) one of the Top 10 Wedding Studios in the world in 2007 by American Photo Magazine, ranking them amongst the best-known names in wedding photography. Known as fantastic photographers, the Bebbs gained recognition as generous educators as well, traveling throughout North America, speaking at major conventions and to smaller groups. Since the American Photo article in 2007, the Bebbs have been featured in several trade magazines, on a variety of blogs and even in a book about Modern Wedding Photography. Their images regularly win awards at photography conventions and through online competitions. In 2009 they were also named as one of the Top 10 Wedding Photographers in Canada.
About Wiley
Wiley is a global provider of content-enabled solutions that improve outcomes in research, education, and professional practice. Wiley's Professional Development business creates products and services that help customers become more effective in the workplace and achieve career success. It brings to life the ideas and best practices of thought leaders in business, finance, accounting, workplace learning, management, leadership, technology, behavioral health, engineering/architecture, and education to serve these communities worldwide.
Founded in 1807, John Wiley & Sons, Inc. (NYSE: JWa, JWb), has been a valued source of information and understanding for more than 200 years, helping people around the world meet their needs and fulfill their aspirations. Wiley and its acquired companies have published the works of more than 450 Nobel laureates in all categories: Literature, Economics, Physiology or Medicine, Physics, Chemistry, and Peace. Wiley's global headquarters are located in Hoboken, New Jersey, with operations in the U.S., Europe, Asia, Canada, and Australia. The Company's website can be accessed at http://www.wiley.com.