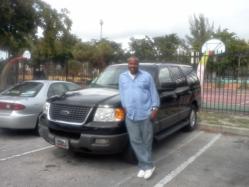 Miami, FL (PRWEB) March 27, 2013
Branches, Inc. (formerly South Florida Urban Ministries) launched the national Ways to Work car loan program in Miami-Dade County in the Fall of 2011. This program provides financial education, a low-interest car loan, and support to working families who are committed to repairing their credit status and gaining a higher level of financial security. Clients use the loans to purchase reliable used cars to help them retain or move ahead in their jobs, reduce lateness and absenteeism at work, access additional education or job training and meet their family's needs, such as transporting children to childcare and school activities. Branches' Loan Coaches, Michele Edwards-Collie and Teresa Guardado, have been working diligently with their volunteer Loan Committees to approve deserving clients for this great program.
The Citi Foundation is providing partial funding to Branches to support this program which helps working families get back on the road to independence and success. One example of success is Mr. Lionel Lightbourne.
Mr. Lightbourne, a hard working husband and father of seven, was in desperate need of reliable transportation for himself and his family. As a youth outreach coordinator, he drives to many local events and networks throughout the community. Prior to Ways to Work support, Mr. Lightbourne was driving an unreliable Grand Marquis with many failing components. Fortunately, Mr. Lightbourne was introduced to the Ways to Work program.
With the opportunity to qualify for a $6,000 loan, Ways to Work put him in a position to purchase a 2003 Ford Expedition and happily reports that everything is in working order! He now enjoys the safety and reliability of this vehicle and is able to better perform at work and transport his family.
Mr. Lightbourne is one of 44 clients who has been approved for a Branches Ways to Work car loan since the launch of the South Florida program. To learn more about the Ways to Work Program, please call 786-507-3999 or email waystowork(at)branchesfl(dot)org.
About Branches
For 40 years, Branches (formerly South Florida Urban Ministries) has made a positive impact in the community by delivering on its mission to serve, educate and inspire people through student, family and financial stability services. Branches provides long-term, holistic services for motivated individuals and families. We help people grow deeper and climb higher in life by building a foundation through education so they can achieve their goals and fulfill their potential. For further details about the Branches Florida City Capital Campaign, please contact Isabelle Pike at 305-442-8306 x1002 or ipike(at)branchesfl(dot)org. To make a gift to Branches, please visit http://www.branchesfl.org and click on DONATE.