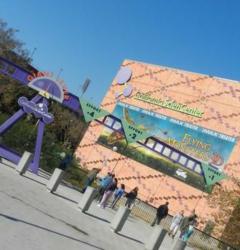 Family vacation savings may already be in your wallet.
Tampa, Florida (PRWEB) March 29, 2013
According to Nancy Nelson-Duac, Co-Founder of theFamilyTravelFiles.com and veteran travel planner, "When making family vacation plans and looking for family vacation savings, one solution may already be in your wallet." She goes on to say, "If your family holds a membership to a children's museum, science museum, art museum, zoo or the YMCA, then it is likely your membership offers reciprocal admission privileges at similar facilities away from home base."
A children's museum membership which includes Association of Children's Museums (ACM) reciprocal privileges means that the privileges extend to children's museums within the ACM Reciprocal Network of more than 165 children's museums in the USA and Canada. A similar situation applies to a local zoo membership. If your zoo is a member of the Association of Zoos and Aquariums then it is part of network of more than 8,000 locations worldwide, meaning it is likely your membership can bring you savings on your family vacation. For science geeks there are free science spots nationwide if you are a member of a museum that is affiliated with the Association of Science – Technology Centers (ASTC).
The YMCA AWAY Program allows member access to more than 2,000 YMCAs across the USA – take your card with you and you will have access to climbing walls, tennis courts, swimming pools and maybe even a family yoga class.
More useful travel advice and family vacation ideas may be viewed at the.FamilyTravelFiles.com and for the latest family travel news follow The Family Travel Files on Twitter (@FamTravelFiles) straight from their homepage.
About theFamilyTravelFiles.com. Founded in 1998, theFamilyTravelFiles.com is one of America's top-rated online family travel resources offering more than 1000 pages of family vacation ideas and trip planning information. The website specializes in family vacation ideas, destination and planning information, family travel advice, and family vacation deals and savings as well as family vacation packages. The site features a number of vacation idea folders including All Inclusive, Beaches Campout, Family Golf, and more.