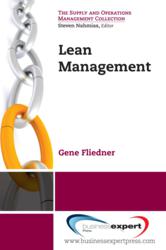 I knew that Gene's expertise on the subject of lean would guarantee that we published an excellent book.
ROCHESTER, MI (PRWEB) March 26, 2013
The Shingo Prize for Operational Excellence, part of the Jon M. Huntsman School of Business at Utah State University, has selected "Leading and Managing the Lean Management Process" by Gene Fliedner as a recipient of the Shingo Research and Professional Publication Award. Fliedner is an associate professor at Oakland University.
"Receipt of the Shingo Research and Professional Publication Award signifies authors' significant contribution to the body of knowledge surrounding operational excellence," said Robert Miller, executive director of The Shingo Prize. "The intent is to motivate others to learn from them."
Fliedner's book is meant to serve as a core reference book regarding the practice of "lean" – the practice of continuously improving an organization's operations while simultaneously providing more value to the end customer. The author attempts to create a strategic framework that an organization can follow to successfully implement a culture of lean, independent of the industry within which it operates, and outlines a pathway to develop lean leaders.
"Gene Fliedner and I began discussing this book years ago, when I worked for another publisher and when lean concepts were just beginning to receive attention from the operations and supply chain community," said Scott Isenberg, executive acquisitions editor at Business Expert Press. "Gene was clearly ahead of the curve on this subject when we first spoke. Shortly after I began working for Business Expert Press in 2010, I told Gene that, with his approval, Business Expert Press would be delighted to be his publisher and he accepted our offer. I knew that Gene's expertise on the subject of lean would guarantee that we published an excellent book. I'm thrilled to learn now that his book has been honored with the prestigious Shingo [Research and Professional Publication Award]."
By "challenging" or applying for an award, authors invite a group of accomplished professionals and trained examiners from The Shingo Prize to thoroughly review their publications. The examiners select the publications they think are worthy of recognition.
Fliedner will receive the award during the opening social of the 25th Annual Shingo Prize International Conference held in Provo, Utah, the week of May 6-10, 2013. The opening social is the beginning of this four-day event featuring a selection of workshops, plant tours, keynote speakers and breakout sessions designed to provide ongoing knowledge, insights and experience for organizations in their pursuit of operational excellence.
About The Shingo Prize
The Shingo Prize for Operational Excellence is named after Japanese industrial engineer, Shigeo Shingo. Dr. Shingo distinguished himself as one of the world's thought leaders in concepts, management systems and improvement techniques that have become known as the Toyota Business System. Drawing from Dr. Shingo's teachings, The Shingo Prize helps companies and organizations increase their efficiency and effectiveness by developing cultures that better tap the talents of their employees. It also awards and recognizes organizations that demonstrate exceptional results from applying its philosophy and recognizes authors who have contributed important insights and applications of the principles it teaches. Those interested in more information about The Shingo Prize or in registering to attend the 25th Annual International Conference may visit http://www.shingoprize.org.