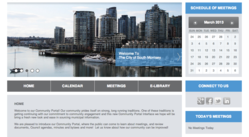 "I now feel like staff has the tool missing to interact with the public."
Kamloops, BC (PRWEB) March 27, 2013
iCompass Technologies is excited to announce the official release of CivicWeb, an addition to our paperless Meeting Management Solution that will revolutionize the concept of open government. CivicWeb takes agendas, minutes, council voting and attendance records, and data search tools and puts them on an attractive web portal promoting government transparency. It is linked to a government's homepage and becomes the public's primary resource for information.
CivicWeb is redefining open governance through an automated posting system that makes updating content as easy checking a box once a document is complete. Information is updated and formatted instantly. There are also subscription features that allows people to sign up for updates that are sent automatically to their inbox.
"CivicWeb is an open government game changer," says VP of Sales and Marketing Scott Neufeld. "Municipal governments and school districts want to be transparent and engaging, and with today's launch of CivicWeb its all possible, due do the automatic posting system iCompass has created."
The response has been overwhelmingly positive. Over 40 current iCompass academic and municipal partners quickly signed up for a pilot program to assess CivicWeb's impact.
"With CivicWeb I now feel like staff has the tool missing to interact with the public," says Town of Mono, Ontario CAO Keith McNenley. "We have been using newspapers and other means of communication, but now we can meet our open governance goals."
The Town of Mono and several other municipalities will be going live in early April, with around 40 more soon to follow. These organizations have identified that CivicWeb saves them money and time in addition to meeting transparency goals.
"CivicWeb has been designed so that it takes minutes to setup. It works with our Meeting Management Solution, and can be configured to meet the needs of any community," explains VP of Customer Success and Operations Paul Blanchet.
This is that latest solution to be released by iCompass joining an already impressive list of meetings, records, and citizen engagement products that are saving municipal governments and academic institutions across North America thousands of dollars annually while transforming the way people think about government transparency.
To obtain more information on CivicWeb/AcademicWeb visit:
http://www.icompasstech.com/civicweb
http://www.icompasstech.com/academicweb
Video: http://www.youtube.com/watch?v=-sFSVaAvid4
About iCompass Technologies
Located in Kamloops, British Columbia, and currently partnering with over 400 organizations across North America, iCompass solutions have been developed to promote strong, efficient and open municipal governments and academic institutions. Over the last 14 years iCompass has established itself as the North American leader for cloud-based, paperless solutions that streamline meeting, records and content management. Woven into this framework are a number of tools that enable governments to become truly open and transparent.
When you put together all of these different elements you get governance that surpasses the needs of everyone in a community – staff, elected officials and the public. That's what we strive for, a stronger community, with the solutions in place so that governments can offer services in a manner that's more cost effective and more efficient than ever before.
The iCompass Grand Slam Commitment
What's unique about iCompass is the true partnership we create with municipalities, school districts and post secondary institutions across North America. When organizations sign up with iCompass, our staff signs a contract too. We strive to have new municipalities up and running in a matter of weeks via our MAX 20 Hour Training Program. We address customer needs in 10 minutes or less recognizing the solutions we provide are vital to the operation of any government. No IT involvement or additional investment is required with our all-inclusive pricing model. Quite simply, iCompass is there for you every step of the way.