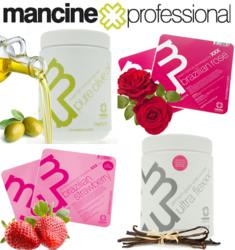 Mancine waxes melt perfectly over the skin and smell amazing... clients love this product for Brazilian and leg waxing.
Hicksville, NY (PRWEB) March 27, 2013
Pure Spa Direct welcomes Mancine Brazilian strawberry body wax to the U.S. spa market.
For over 50 years, Melbourne Australia's Mancine professional depilatory line has been one of the world's leading brands in hair removal.
Mancine's global reputation for excellence and innovation is well respected in the spa and hair removal industry. Owner Brenton Price attributes Mancine's performance to using only the highest grades of resins and raw ingredients to make their prestigious line of waxes. "Every batch of our FDA-approved resins are clinically tested to meet our stringent standards", says Price.
Before now, Mancine was available in very limited supply in North America. Beginning April 19, 2013, Pure Spa Direct, a New York-based Salon and Spa distributor wholesaling over 65,000 products to licensed professionals, will be distributing Mancine's best-selling waxes. Pure Spa will also offer Mancine's pre and post wax care products, wax solvent, strips and rolls for professional waxing services.
According to Tara DiCintio, Sales Manager at Pure Spa Direct, "Waxing pros constantly call and request Mancine wax because they love the way it lifts all the hairs, even the finest, with very little pain - it also smells amazing!". Spas and Salons tout the Aussie brand because their waxing clients don't dread coming back for appointments. For the business owner, the product is efficient in its performance, a little goes a long way, which helps keep costs down.
Pure Spa Direct is thrilled to be offering Mancine to the U.S. Salon and Spa market. "This is a very exciting announcement for all professionals in the waxing and hair removal industry. Waxing professionals recognize Mancine's quality and performance in their services, and they insist there is no substitute." says Doug Dema, International Buyer for Pure Spa Direct.
Among Mancine's best selling waxes that will be offered at Pure Spa Direct are: Brazilian Strawberry XXX, Brazilian Rose XXX, Vanilla Hot Ultra Flexx, and Olive Oil soft wax." For more information visit: PureSpa.com/Mancine