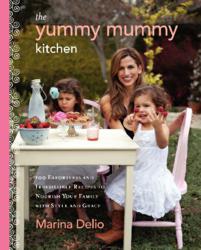 "My recipes may look elegant and complicated, but they are deceptively simple…The secret is that simplicity is what makes food taste delicious and look bright and beautiful."—Marina Delio
San Francisco, CA (PRWEB) March 27, 2013
Putting a meal on the family table might seem like a chore. Pulling together an elegant meal that's both delicious and healthy can seem even more daunting. But according to popular "Yummy Mummy" blogger Marina Delio, any mom can put dinner on the table without breaking a sweat—or losing her sense of style.
In The Yummy Mummy Kitchen: 100 Effortless and Delicious Recipes to Nourish Your Family with Style and Grace (HarperOne; Hardcover; April 2, 2013) Delio shares advice passed down from generations about eating healthy and living well, all the while adding a touch of glamour. Inspired by her grandmother, the original "Yummy Mummy," Delio—a photographer, cook, wife, and mother—reveals the secrets to having it all, empowering moms to balance the needs of their family while maintaining a sense of their own true, chic selves. Showing that simplicity is the key to gorgeous presentations and delicious food, her recipes call for as few ingredients as possible, offering quick and stress-free solutions for any mom to make…even while balancing a toddler on the hip.
From sophisticated appetizers to straightforward soups, from finger-foods at the playground to elegant sit-down dinners, Delio has created over one hundred produce-rich recipes that get back to the basics of cooking. Incorporating her global flair with ingredients picked up at the local farmers market, Delio arms readers with simple yet stylish recipes that transform time in the kitchen into bonding time with friends and family.
Far from a traditional cookbook, The Yummy Mummy Kitchen offers a mix of lifestyle tips and wholesome, tasty recipes infused with the "Yummy Mummy" ideology: women can feed their families effortless and delicious meals, and look beautiful and sophisticated while doing it.