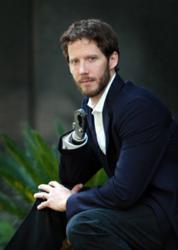 Pittsburgh, PA (PRWEB) March 27, 2013
ACI will welcome conservation activist, mountain guide, and outdoor photographer Aron Ralston as the keynote speaker at the 2013 ACI National Home Performance Conference in Denver, CO on the tenth anniversary of the event that saved his life.
Ralston will present "127 Hours: Between a Rock and a Hard Place" on Wednesday, May 1, exactly ten years to the day that he amputated his own right forearm to free himself from entrapment in a remote Utah canyon. Ralston was hiking alone when an 800-pound boulder dislodged, trapping him against the canyon wall for six days. An engineer by training, he performed the amputation using a multi-tool before rappelling off a six-story cliff and hiking seven miles to his rescue.
Following the amputation, Ralston shared his story with audiences around the world, writing the bestselling book Between a Rock and a Hard Place. Director Danny Boyle adapted the book into the film 127 Hours, which starred James Franco.
The keynote presentation will kick off the 2013 National Home Performance Conference, an annual event attracting members from every sector of the home performance and weatherization industry. Home performance and weatherization professionals create solutions for the comfort, health, and energy efficiency in residential buildings by exploring how buildings use energy and how building materials and appliances affect resource efficiency, air circulation, and moisture.
Ralston is no stranger to the home performance industry, having undertaken an energy assessment and upgrade project on his family's Colorado home.
ACI's National Home Performance Conference presents a comprehensive educational agenda, workshops, networking, and the industry's largest trade show. The 2013 event will take place at the Sheraton Denver Downtown Hotel April 30-May 3, and registration is now open at http://www.affordablecomfort.org/national2013.
–END–
About ACI
ACI (Affordable Comfort, Inc.) is a nonprofit professional association dedicated to making every home healthy, comfortable, and resource-efficient. Since 1986, ACI has served as an unbiased go-to resource for home performance and weatherization, bringing together industry leaders for the purpose of education, professional networking, and business-to-business collaborations. For more information, please visit http://www.affordablecomfort.org.
###
ACI Contact
Amy Kozusko
Marketing & Public Relations Coordinator
ACI (Affordable Comfort, Inc.)
412-424-0085
akozusko(at)affordablecomfort(dot)org