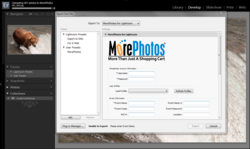 "We've been using the plug-in for Lightroom to upload our events, and I like using it very much. Keep up the good work."
-David Atkins
Traverse City, MI (PRWEB) March 28, 2013
The MorePhotos Lightroom plugins will save any photographer time and hard drive space. An efficient workflow will make or break a photographer. If someone is in the business, they live and die by their groove. One extra step in the workflow can put anyone behind, and snowball through the day until they (might) get caught up at 1am.
"When we release a new feature, it has to either save our photographers time or money, period. The Lightroom plugins do both," Says Zack Wessels with MorePhotos.
Sending images directly from editing software to a site for proofing is the pinnacle. There is no need to create another folder to store "website jpegs" and clog up a hard drive. Most computers already look like an octopus, with all of those external drives, and no one wants to make that worse. All the same functionality of their regular uploading software is packed into the plugin. Simply select the profile (wedding, family portraits, senior images, etc.) and hit upload. Images are sent directly to a person's website or to their Facebook business page, depending upon which plugin is being used.
There is no paid account required at this time to use the MorePhotos App on facebook. Users receive 1GB of drive space at no charge. It is currently the best way for photographers to keep their images protected within Facebook. If you are looking to sell images through your Facebook business page (and keep images protected), get the http://www.MorePhotosApp.com installed on your page and then find the Lightroom plugin within the App.
If you have a MorePhotos shopping cart, get the plugin here: http://www.morephotos.com/downloads.asp.