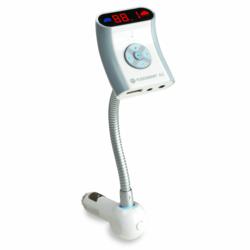 "We wanted to make sure the design was functional, elegant and innovative, and we feel we have done that."
Westlake Village, CA (PRWEB) March 26, 2013
Accessory Power released its newest FM transmitter, the GOgroove FlexSMART X3, an upgrade to its X2 model. A prototype was unveiled during the International Consumer Electronics Show (CES) in Las Vegas in January. Based on feedback received, some minor modifications and improvements were added to create a design that will hopefully resonate with consumers.
"It took us a while to settle on the new form-factor," explained Alex Rocha, Senior Product Developer who started working on the concept at the beginning of 2012. "We wanted to make sure the design was functional, elegant and innovative, and we feel we have done that."
The GOgroove FlexSMART X3 has been upgraded from the X2 in a few ways. The design of the X3 is very ergonomic, and the new shape is similar to an abstract sculpture. The call buttons are incorporated into the sleek LCD screen, and the USB and auxiliary ports can be cleverly hidden by tilting the adjustable neck. There is also enhanced audio clarity and modified amplification. A simple, yet effective, Quick Start Guide with label memos has been included to help customers set up in seconds and learn the basic functions of the X3 quickly.
One noticeable difference between the two is the color: the X3 is white and the other is black. Instead of a knob to tune to stations, the X3 comes with buttons. But just like its predecessor, the X3 allows hands-free calling, non-Bluetooth connectivity via 3.5mm jack, an AUTO-SCAN feature and has easy pairing technology and the ability to charge user's Bluetooth-enabled phones from the included USB port. The FlexSMART X3 also ships with micro USB cable, which is an added convenience for the bulk of cellular phone users.
"All in all, we feel very positive about the improvements that have gone into the X3 and we look forward to working with our users to make more enhancements with all our products," said Rocha.
For further information on Accessory Power or the GOgroove FlexSMART X3, visit http://www.accessorypower.com.
###
Accessory Power is an American-based manufacturing and distribution company, with offices in USA, Asia and Europe. Since 1980, Accessory Power has been dedicated to manufacturing quality consumer electronic accessories. An important distinction that characterizes this company is an unrelenting commitment to quality in each step of a product's life; every product is backed by an industry-leading three-year warranty. Accessory Power is proud to say that they are, "The Power Behind Your Electronics!